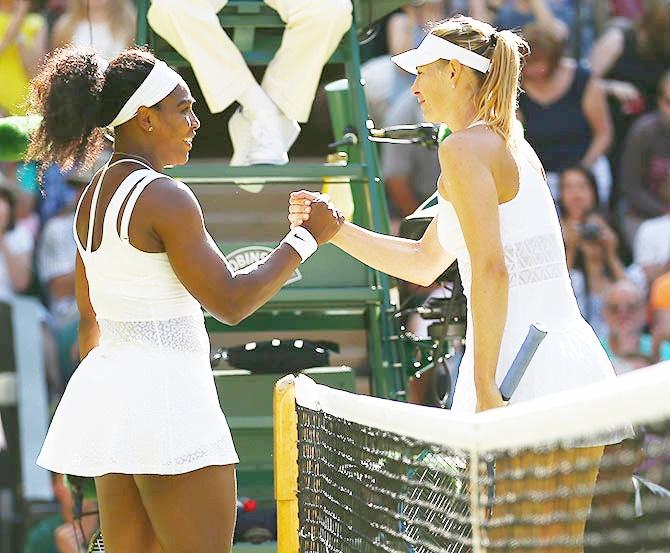 IMAGE: USA's Serena Williams with Russia's Maria Sharapova. Photograph: Clive Brunskill/Getty Images.
Serena Williams, the top-ranked player in women's tennis, said on Tuesday she was shocked to hear her friend and fellow tennis star Maria Sharapova had failed a drug test, but she commended Sharapova for showing courage in taking responsibility.
"As Maria said, she's ready to take full responsibility and I think that showed a lot of courage and a lot of heart," Williams told reporters at a briefing ahead of a match she will play on Tuesday night in New York.
US Olympic athletes expressed little sympathy for tennis star Maria Sharapova's revelation that she failed a drug test, saying they wanted sporting officials to raise the pressure for clean play.
Several athletes also expressed concern about reports that doping remains rampant in Russia and that lax compliance in other countries could mean the Aug. 5-21 Olympic Games in Rio de Janeiro will be plagued by doping.
The steady drip of doping news was a particular source of frustration since US athletes face such a constant barrage of tests that some avoid taking over-the-counter cold medicine.
"I don't even like to take multi-vitamins I'm so nervous," said Kayla Harrison, 25, who won a gold medal in judo at the 2012 London Olympics and hopes to defend her title in Rio.
"There are so many things on that list that you don't even think ... you can't take Benadryl in competition," Harrison said. "It scares the crap out of me because the last thing I want is a bad test to tarnish my chances, ruin my reputation. So for me it is never worth the risk."
Sharapova, 28, said her family doctor had been giving her the drug, mildronate, for a decade before WADA banned it.
But athletes attending a US Olympic Committee event in Beverly Hills, California, had no sympathy for Sharapova's failing to notice the new ban on the drug.
"As an athlete it is your responsibility to always know what's being placed on the banned list. Period," said Aries Merritt, a 30-year-old who won a gold medal in the hurdles in 2012 and is staging a remarkable comeback after undergoing a kidney transplant in September. "There is no excuse."