'There was a witch hunt after Armstrong'
'USADA wanted a big name. They weren't really interested in the smaller riders and also they made deals with the smaller riders in order to get the information they needed on the big guys'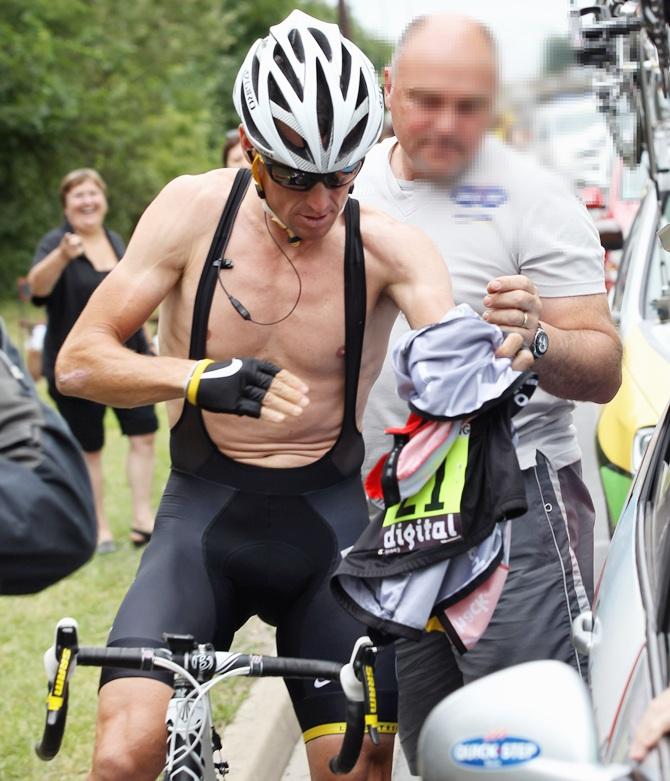 Lance Armstrong changes his kit. Photograph: Bryn Lennon/Getty Images
Banned cyclist Lance Armstrong was the victim of 'a witch hunt' and made a scapegoat by the United States Anti-Doping Agency (USADA), says former International Cycling Union (UCI) president Pat McQuaid.
Shamed cyclist Armstrong says he would dope again!
A cancer survivor and once a hero to millions, Armstrong was stripped of his seven Tour de France victories and banned for life from racing in 2012 by USADA after it accused him in a report of engineering one of the most sophisticated doping schemes in sports.
"He was very much made a scapegoat, there was a witch hunt after Armstrong," McQuaid told BBC Radio 5 live on Tuesday, before adding that he had 'a certain sympathy' with the American.
Irishman McQuaid, UCI president from 2006 to 2013 before being replaced by Brian Cookson, made his comments a day after Armstrong had told the BBC he would not have needed to resort to doping in the sport's current era.
Following his return from cancer in the late 1990s, Armstrong was regularly subjected to claims of doping, which he stoutly refuted until the release of USADA's 'reasoned decision'.
The 200-page document -- supported by a further 1,000 pages of evidence -- finally led to Armstrong's confession in an interview with Oprah Winfrey in January 2013.
"That's the way it was," said McQuaid. "USADA wanted a big name. They weren't really interested in the smaller riders and also they made deals with the smaller riders in order to get the information they needed on the big guys.
"I can have a certain sympathy because I don't think in sport, people in those situations, I think they should be treated equally."
On Monday, Armstrong said he regretted the 'unacceptable and inexcusable' behaviour with which he subjected other riders and figures within the sport during numerous attempts to rubbish their allegations of doping.
"I would want to change the man that did those things, maybe not the decision, but the way he acted," he continued.
"The way he treated people, the way he couldn't stop fighting. It was unacceptable, inexcusable."
Armstrong's seven Tour victories between 1999 and 2005 have been rescinded but not assigned to anyone else because of the prevalence of doping at the time.