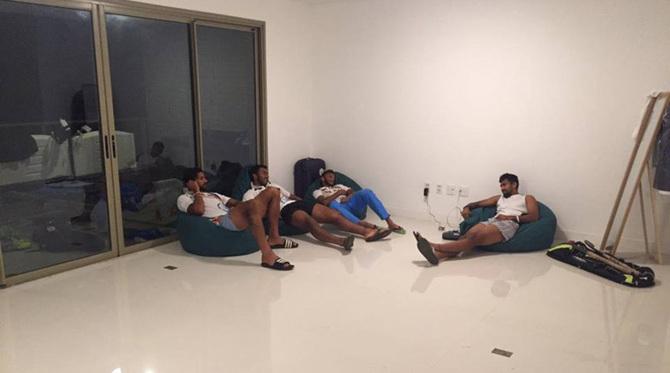 IMAGE: Indian hockey players in their apartment in the Games Village in Rio de Janeiro. Photograph: Facebook.
With the Games Organising Committee expressing its inability to provide additional chairs and TV sets, the Indian Olympic contingent's Chef de Mission Rakesh Gupta has now decided to buy them through the country's embassy in Rio de Janeiro.
Hockey India President Narinder Batra had on Tuesday lashed out at Gupta and other IOA members for ignoring the complaints of players in Rio de Janeiro.
"Following a request from our hockey teams to provide them with more chairs and TV sets, I had spoken and also written to the Organising Committee (OC) to do so," Gupta said in a press release.
"The Organising Committee's representative replied, saying 'Unfortunately, Rio 2016 is only providing TVs for the Chef de Mission office and the TV Lounge on the common spaces.
"As well the furniture is provided according to the guidelines confirmed and agreed with the IOC. You are welcome to come to the Rate Card Desk and check if there are items available to purchase'," he added.
The OC have also said that the items provided to each NOC are the same for all and agreed to by the IOC.
The Chef de Mission, meanwhile, offered the hockey team the TV set and the furniture in his office.
The request for the items came at the Managers/Coaches meeting with the Chef de Mission. Following the hockey teams' requests, the athletics squad also made a similar demand.
Gupta spoke to and also wrote to the Organising Committee about the requests, and even tried to purchase them from Rate Card of the OC but found they were not available.
Finally, the Chef de Mission has now requested the Indian Embassy to purchase these items for the contingent.
"Now we have decided to put one TV set on each of the floors and also put additional chairs also. The equipment is expected to be placed in the apartments in the next few days," Gupta said.
"I also inquired about the Cable Connection for TV sets on each floor and was told they would check if apartments can receive cabling. They have also informed us that this installation is chargeable. We have agreed to pay for cabling for each of the floors. The Organising Committee is making arrangements to do the same and it could take a day or two," he added.
Gupta said all demands made by the Indian athletes would be addressed.
"We are trying to make things as comfortable as possible for our athletes, since they are representing our country. All their demands and requests have been met and we are working to ensure this one is also met."