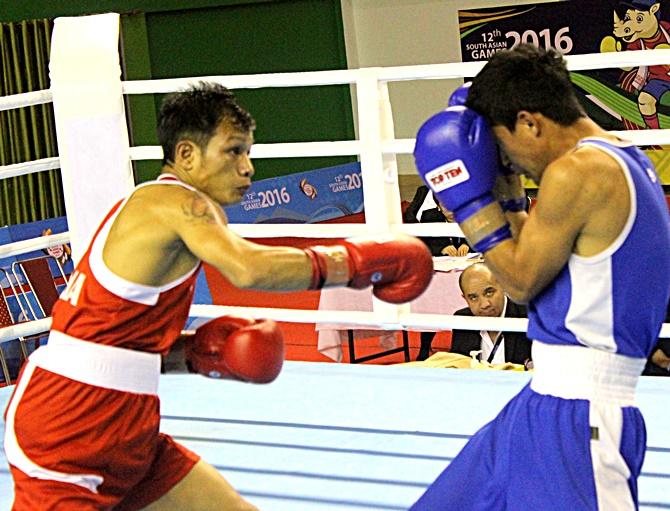 IMAGE: India's Devendro Singh, left, throws a jab at his opponent during the South Asian Games in Shillong. Photograph: PTI.
Livid at being ignored for elections to put together a new federation on Sunday, two of Indian boxing's biggest stakeholders -- Railways and Services Sports Control Board -- have lodged a protest with the Sports Ministry.
Neither Railways Sports Promotion Board (RSPB) nor the Services Sports Control Board (SSCB) will be a part of the election process to constitute the Boxing Federation of India even though they have a vote each.
"We haven't even been intimated about Sunday's election, we are getting to know through media reports. That's no way to treat stakeholders as big as us. We provide jobs, training facilities to boxers and our boxers have gone on to represent India in every big tournament. How can we be kept out of this process like this?" asked a top RSPB official while talking to PTI.
"We have written to the Sports Ministry to register our protest," the official added.
The view was echoed by SSCB, which was among the founding members of the erstwhile Indian Amateur Boxing Federation (IABF), the governing body till 2012.
"Boxing is an integral part of SSCB. We even have a boys' division to ensure that the sport is nurtured at the grassroot level. We ought to at least be told that a process is on. Is that too much?" said an SSCB official.
A representative of the ad-hoc committee, which is administering the sport right now, however, said the Boards have been left out as they did not take affiliation from BFI.
"We had told them about the affiliation process in April but they said that since BFI is not recognised by the Sports Ministry, they would neither take affiliation nor pay the affiliation fee. That is why they have been left out of the election process," said an ad-hoc committee member.
"They can take affiliation after the body is constituted and given recognition by the Sports Ministry. That would reinstate their voting rights," he said.
However, both RSPB and SSCB said they deserved a voice even on Sunday.
"We understand there are technicalities but we could have been intimated. We deserve to be informed and kept in loop. We are among the biggest contributors to Indian boxing. And what if we are not OK with whoever gets elected tomorrow (Sunday)? Would there be a re-election?," asked the SSCB official.
The two Boards have had some of the biggest names in Indian boxing on their rolls.
While RSPB can boast of having the likes of Vijender Singh and Akhil Kumar before Beijing Olympics, SSCB have names such as M Suranjoy Singh and L Devendro Singh among others.