A quick guide into the life of Serena Williams, the GOAT – The Greatest of All Time!
IMAGE: Serena Williams shows off Daphne Akhurst Memorial Cup in the locker room after winning the Australian Open title at Melbourne Park on Sunday. Photograph: Australian Open/Twitter
Born in Michigan on Sept. 26, 1981. (Age 35)
GRAND SLAM CAREER: 23 wins - Australian Open (2003, 2005, 2007, 2009, 2010, 2015, 2017); French Open (2002, 2013, 2015); Wimbledon (2002, 2003, 2009, 2010, 2012, 2015, 2016); US Open(1999, 2002, 2008, 2012, 2013, 2014)
* Williams's seventh Australian Open title on Saturday put her ahead of Germany's Steffi Graf with the most grand slam singles titles in the open era. Australia's Margaret Court won 24 but the majority came in the amateur era.
* She is one of five women, after Maureen Connolly, Margaret Court, Martina Navratilova and Steffi Graf, to hold all four grand slam titles at the same time.
* Williams also owns 14 women's grand slam doubles titles with older sister Venus and has won four Olympic gold medals:singles (2012), doubles (2000, 2008, 2012).
*Head-to-Head vs Venus: Out of their nine major finals, Serena has won seven and her overall win-loss record against her big sister is 17-11.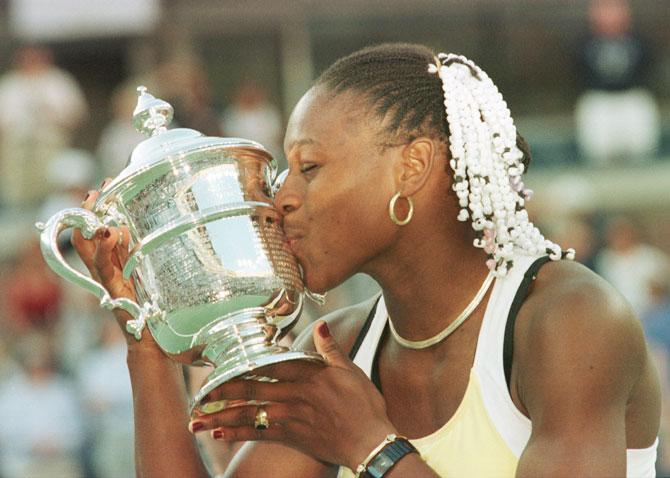 IMAGE: Serena Williams kisses the trophy after defeating Martina Hingis to win the US Open at the USTA National Tennis Center in Flushing Meadows, New York, on 11 Sep 1999. Photograph: Jamie Squire/ALLSPORT/Getty Images
MAKING HER NAME
* Learned to play the game with Venus in Compton, California. Serena Williams started playing tennis on potholed courts in one of America's most notorious gangland neighbourhood.
* Both sisters were coached by their father Richard.
* Serena turned professional in September, 1995.
* Two years later, she was in the top 100 and in January 1998 made her Grand Slam debut, reaching the second round of the Australian Open -- where she was beaten by Venus.
* Won her first WTA Tour title in Paris in 1999, beating Amelie Mauresmo in the final.
* Defeated Martina Hingis in the US Open final in 1999, becoming the first African-American woman to win a grand slam singles title since Althea Gibson in 1958.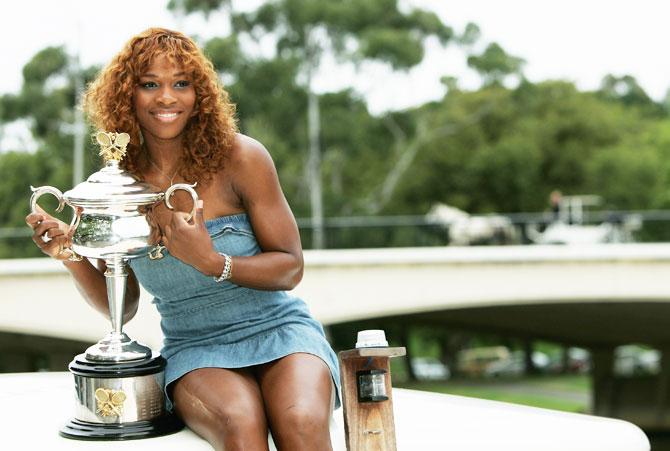 IMAGE: Serena Williams poses onboard a boat on the Yarra River with the Australian Open Championship Trophy after winning the Australian Open Grand Slam final at Melbourne Park on January 29, 2005. Photograph: Clive Brunskill/Getty Images
TENNIS CAREER
* Failed to make another grand slam final until 2001 when she lost in the US Open final to sister Venus.
* Missed the 2002 Australian Open due to injury; then embarked on an incredible run that included winning five of the next six slams and losing in the semi-finals of the 2003 French Open.
* Career affected by injury over the next four years, winning two Australian Open titles in 2005 and 2007 but failing to advance beyond the quarter-finals at the other three.
* Won the US Open in 2008 to break the grand slam drought, having not won a major title since the 2007 Australian Open.
* At the 2009 US Open, Williams was fined $175,000 and placed on a two-year probation for unsportsmanlike behaviour after being defaulted in the semi-final against Kim Clijsters.
* Joined Billie-Jean King on all-time grand slam list in sixth with 12th major title at 2010 Australian Open.
* Missed US Open in 2010 because of medical complications after cutting her foot on glass while celebrating her win at Wimbledon.
* In 2011, underwent surgery after a life-threatening bloodclot was detected on her lung. Made the US Open final but lost to Australia's Sam Stosur.
IMAGE: Serena Williams holds the Daphne Akhurst Memorial Cup after winning the 2015 Australian Open women's final against Maria Sharapova. Photograph: Clive Brunskill/Getty Images
* Won Wimbledon in 2012 and followed that with Olympic gold on the same grass courts, beating top seed Victoria Azarenka in the semi-finals and third seed Maria Sharapova in final.
* Won fourth US Open title in 2012, beating Azarenka in the final.
* Won second Roland Garros title in 2013, one of 10 titles she lifted that year to reclaim world's top ranking.
* Claimed seven titles in 2014, including her sixth US Open, which was her third in succession, to join compatriots Chris Evert and Martina Navratilova on 18 grand slam wins.
* Defeated Maria Sharapova in the 2015 Australian Open final to secure her 19th grand slam title.
* Despite battling flu, wins a third successive major title and 20th overall by overcoming Czech left-hander Lucie Safarova in the French Open final.
* Claimed the so-called 'Serena Slam' by winning sixth Wimbledon crown to hold all four majors for the second time in her career. Seemed poised to secure a calendar grand slam at the 2015 US Open but lost to Italy's Roberta Vinci in semi-final.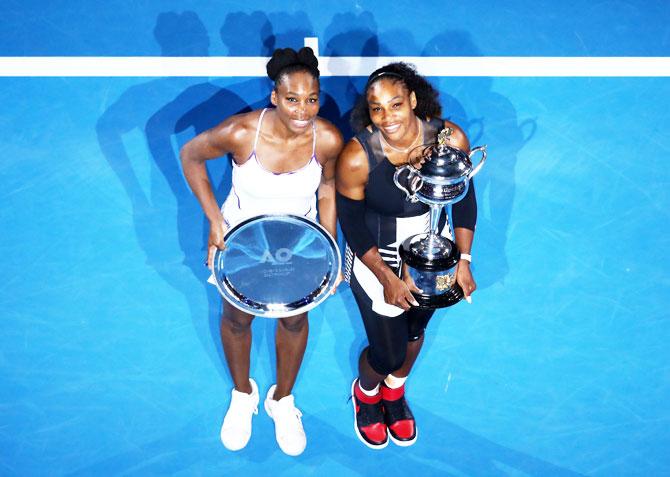 IMAGE: 2017 Australian Open champion Serena Williams and Venus Williams poses with the runners-up plate pose for the cameras at Melbourne Park on Saturday. Photograph: Cameron Spencer/Getty Images
* Lost the 2016 Australian Open final to Angelique Kerber and was then denied again in the French Open final, this time by Spain's Garbine Muguruza.
* Beat Kerber to win Wimbledon for the seventh time in 2016, drawing level with Steffi Graf on 22 grand slam titles.
* Missed the rest of the 2016 season with a shoulder problem after being knocked out of the US Open in the semi-finals by Karolina Pliskova.
* Was year-end number one from 2013-15 but lost the top ranking to Kerber because of her absence from the back end of the 2016 season.
* Won her 23rd grand slam title at the 2017 Australian Open to regain the number one ranking from Kerber.