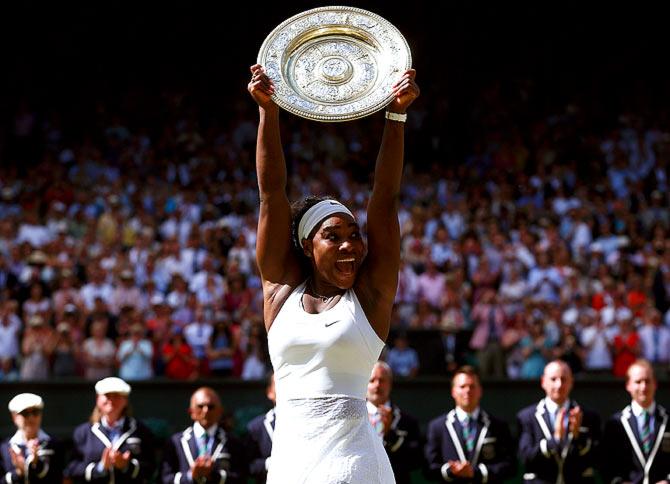 Serena Williams celebrates with the Venus Rosewater Dish after her victory in the singles final at Wimbledon. Photograph: Julian Finney/Getty Images
Serena Williams claimed a sixth Wimbledon title and fourth successive Grand Slam crown by suppressing the spirited attacking instincts of 20th-seeded Spaniard Garbine Muguruza to win Saturday's final 6-4, 6-4.

American Williams reinforced her stranglehold on the women's game by overcoming an early wobble and resisting a battling fightback to claim a 21st Grand Slam title that leaves her one behind German Steffi Graf's record haul of professional era majors.

The world number one was simply too powerful and too consistent for surprise 21-year-old finalist Muguruza, who began with a valiant positive approach but could not maintain her early high level.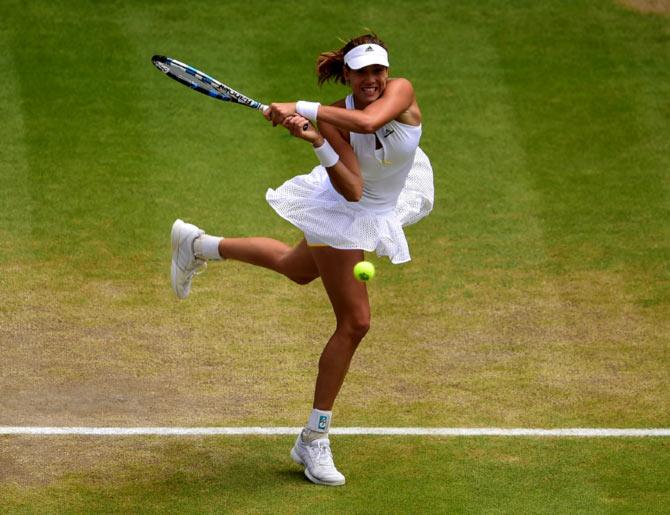 Garbine Muguruza plays a backhand. Photograph: Shaun Botterill/Getty Images
After losing a close first set and battling bravely to come back from 5-1 down in the second, the Spaniard was eventually downed after one hour and 23 minutes of combat, to leave Williams to receive the acclaim of the Centre Crowd.

Williams now holds all four majors at the same time -- the so-called 'Serena Slam' -- having also won the US, Australian and French Open titles.
"I can't believe I am standing here with another Serena Slam. It is so cool," Williams said courtside.

"It has been a pleasure and an honour to have so many years in this unbelievable place."
DOUBLE FAULTS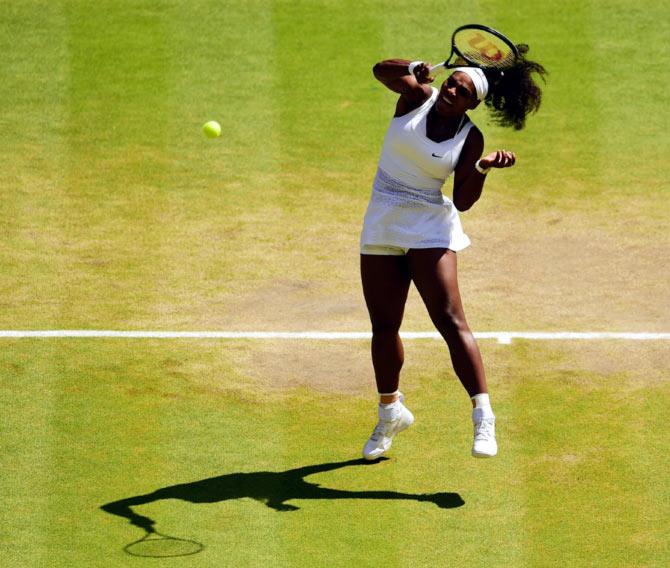 Serena Williams hits a forehand. Photograph: Shaun Botterill/Getty Images
Muguruza, playing in her first Grand Slam final, began with calm authority and it was Williams who seemed to suffer an attack of the butterflies, hitting three double faults and facing four break points before losing her serve in the opening game.

But Williams eventually cranked into gear and started to find her range, forcing Muguruza to save two break points in the sixth game before the American got her reward on the Spaniard's serve to level at 4-4.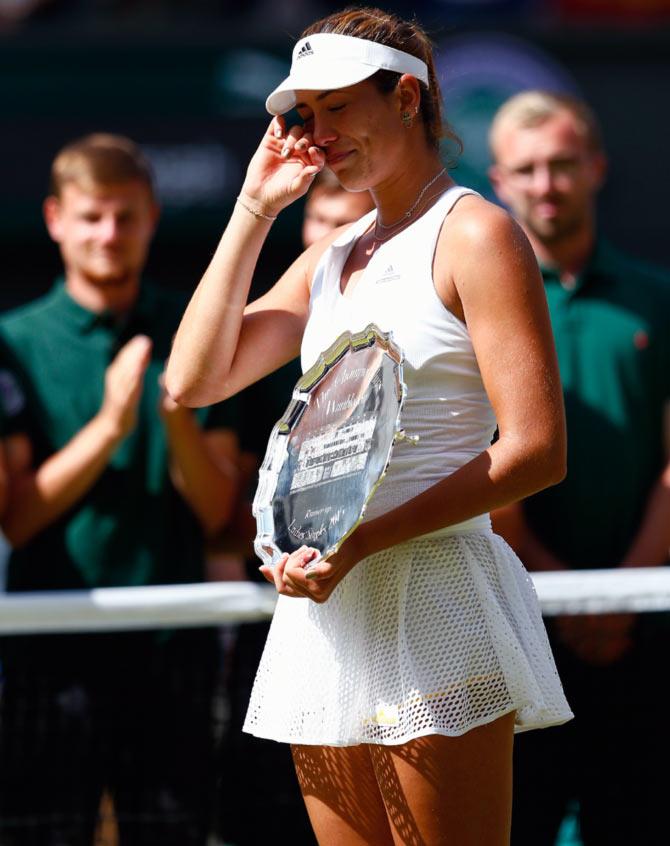 Garbine Muguruza poses with the runner-up trophy. Photograph: Julian Finney/Getty Images
Williams increased the pressure and, when Muguruza served a double fault to bring up set point, the top seed smashed a forehand winner before pumping her fist in celebration.

Muguruza was visibly deflated. She managed to hold her first service game, but was then subjected to a brutal barrage of winners from Williams, who broke twice for a 5-1 lead.

The Spaniard simply would not lie down, however, and broke back twice, going toe-to-toe with Williams from the back of the court and swinging her racket to brutal effect.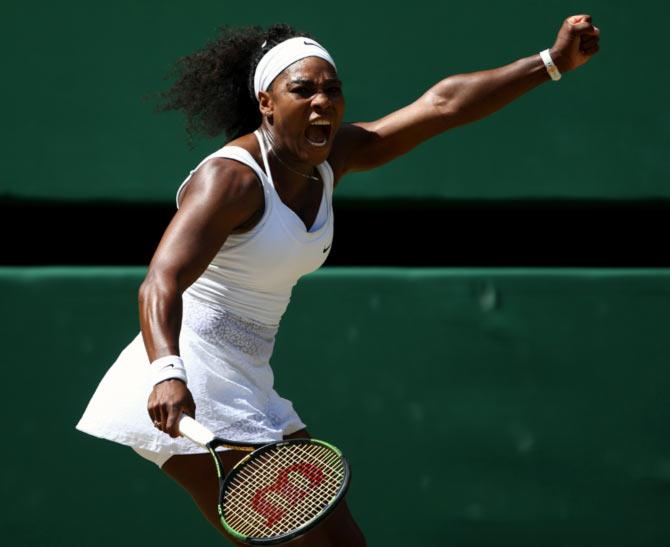 Serena Williams celebrates winning a point. Photograph: Shaun Botterill/Getty Images
Just when it looked like she could force the match into a decisive third set, though, her serve collapsed and Williams forced three match points before the contest suffered an anti-climactic finish.

A Muguruza shot landed long and Williams stood still, unsure of the call and whether to celebrate or wait for a challenge.

It eventually dawned on her that she had clinched the title and she raised her arms to the sky before embracing the vanquished Muguruza.