Over the last two weeks, tennis aficionados got a glimpse of the latest fashion in women's tennis at the US Open.
Outfits, sombre and bizarre, attracted the shutterbugs at the year's final Grand Slam.
Some were instant hits, while some gave spectators sore eyes.
If you missed it, here's a look at what some of the leading players wore.
Serena Williams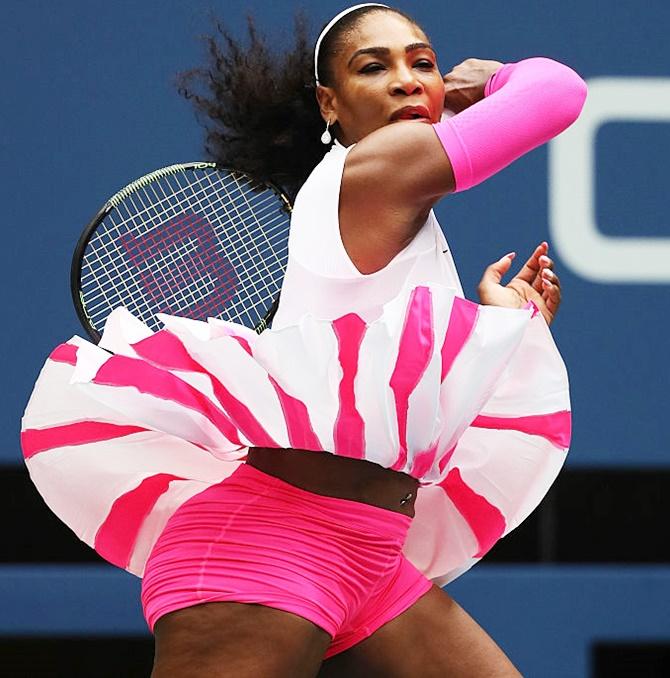 IMAGE: Serena Williams of the United States returns a shot at the 2016 US Open. Photograph: Al Bello/Getty Images.
The American is gunning for Slam No 23 at the US Open, but it is her 'power' dress that is also turning heads.
She evoked 'Wonder Woman' when describing to reporters the superhero-looking outfit she sported.
The 34-year-old had a black and pink outfit, accessorized with long glove-like compression wear on her arms.
"It is functional, so I think that helps me, especially with my shoulder problems that I've been having," she said about the sleeves.
"We wanted to focus on the colours. So keep the colour black. But there's lots of pink pops throughout the dress. It's definitely functional. There's definitely things in there to keep my muscles warm."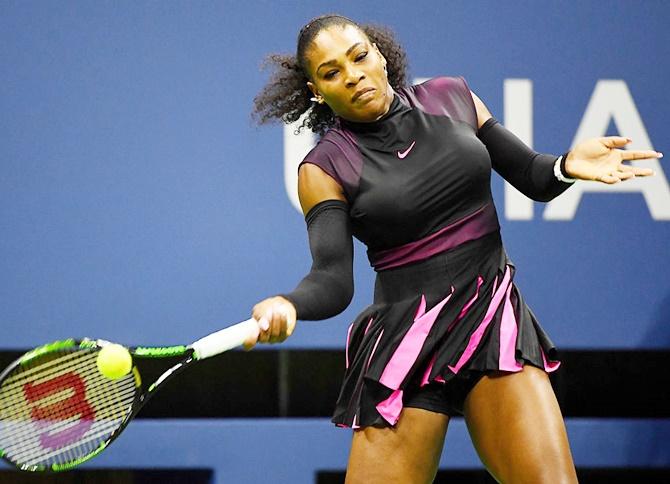 IMAGE:Serena Williams of the United States. Photograph: Alex Goodlett/Getty Images.
The night version is purple-and-black while the day version, in softer pink and white, looks more fun.
The look is completed with her signature shoe, the NikeCourt Flare, the black and white option with volt and pink touches.
Venus Williams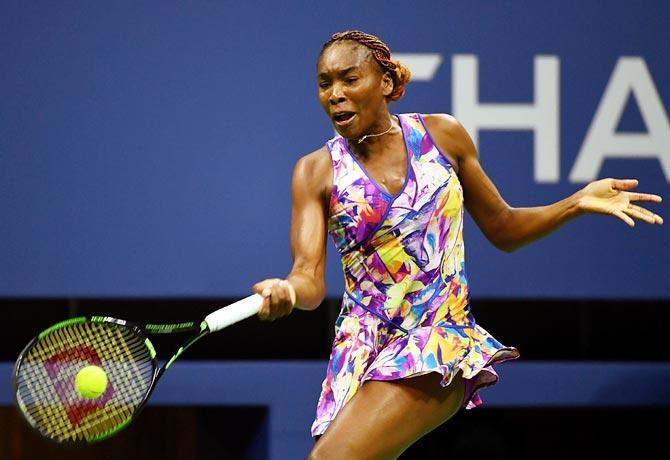 IMAGE: Venus Williamsat the 2016 US Open. Photograph: Alex Goodlett/Getty Images .
Venus Williams's outfits at the US Open stand out not only because of its appealing print, but also the stylish purple colour-blocking at back, a nice wrap element and feminine flowy skirt.
"I have been waiting to wear this dress, it is such a fun dress to wear," she said of the new Prism collection.
Neon outfits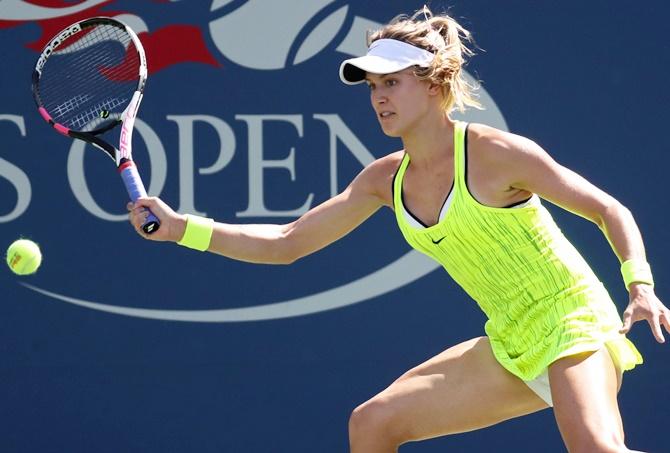 IMAGE: Eugenie Bouchard of Canada was one of several players wearing Nike's neon outfit. Photograph: Geoff Burke-USA TODAY Sports/Reuters .
After the 'lingerie' outfit at Wimbledon, Nike was back with fluorescent yellow gear for players, both male and female.
It was hard to miss the neon outfits, especially since everybody seemed to be wearing them.
A lot of people compared the players to tennis balls, with the neon yellow shirt and white shorts and neon yellow socks.
Luckily, the best-dressed players managed to distinguish themselves in terms of style and design.
Svetlana Kuznetsova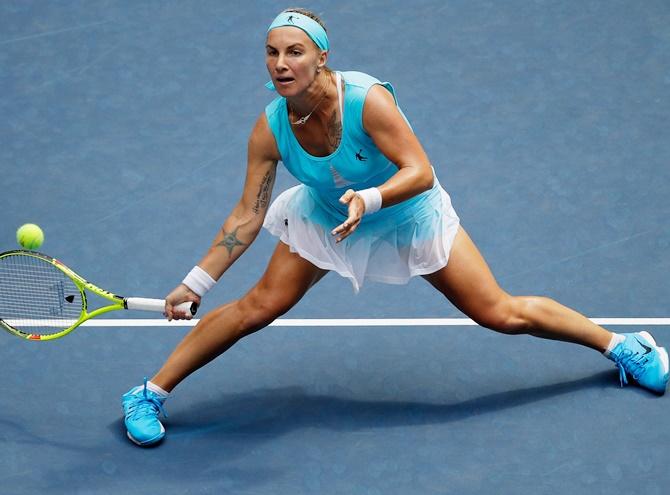 IMAGE: Svetlana Kuznetsova of Russia returns a shot to Caroline Wozniacki of Denmark. Photograph: Andy Lyons/Getty Images.
The light blue ensemble from Qiaodan looked festive and, most-importantly, comfortable.
But we couldn't see more of it as she was ousted in the second round after former world number one Caroline Wozniacki, one point from falling behind 5-0 in the opening set, rallied to upset the ninth-seeded Russian in straight sets.
Angelique Kerber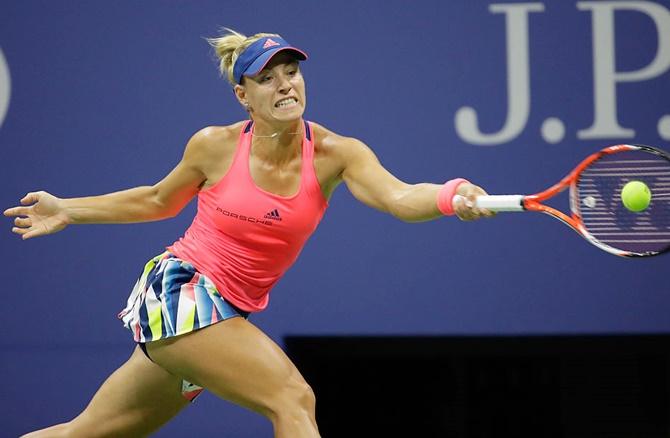 IMAGE: Angelique Kerber of Germany plays a forehand. Photograph: Andy Lyons/Getty Images.
Angelique Kerber and Simona Halep showcased adidas's fall collection, the geometric print inspired by New York City's skyline.
Simona Halep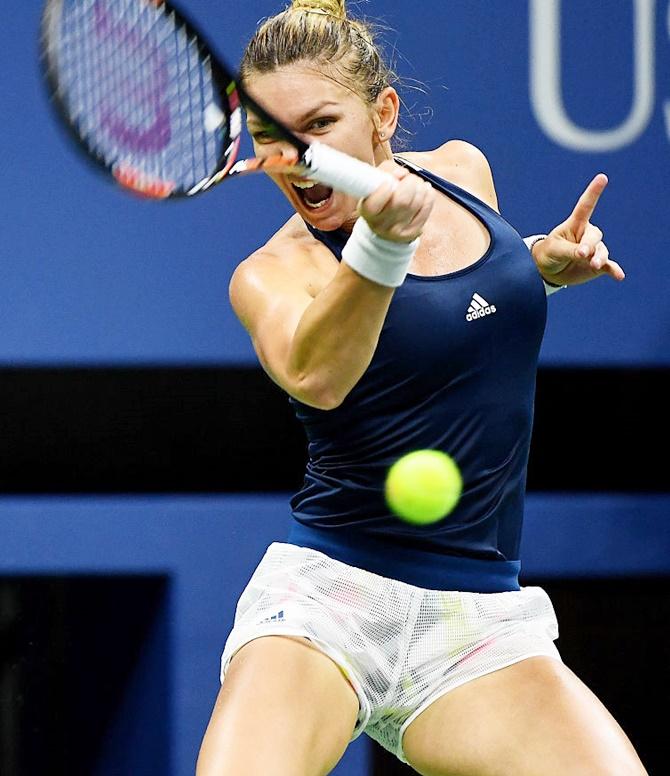 IMAGE: Simona Halep of Romania returns a shot to Serena Williams of the United States. Photograph: Alex Goodlett/Getty Images.
While Kerber paired her flash red tank with the bold triangular print of the skirt, Halep opted for mesh-covered shorts.
Garbine Muguruza
IMAGE: Garbine Muguruza of Spain reacts. Photograph: Alex Goodlett/Getty Images .
Many of the outfits had a retro vibe, including the adidas outfit worn by Caroline Wozniacki, Garbine Muguruza and Andrea Petkovic, who picked colour-blocking items.
Timea Babos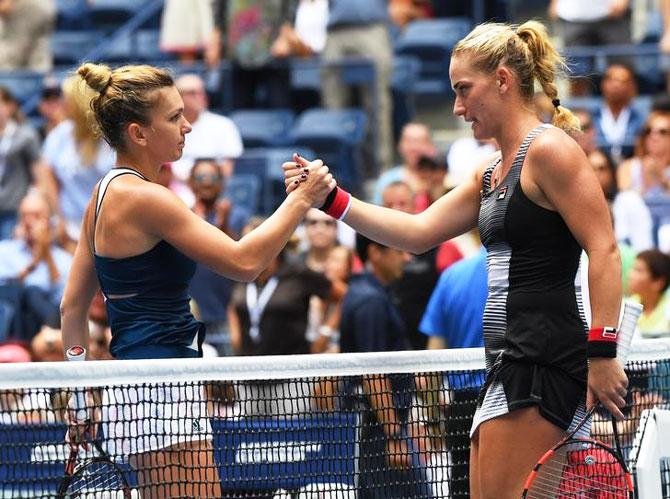 IMAGE: Simona Halep is congratulated by Timea Babos after their match. Photograph: Robert Deutsch-USA TODAY Sports via Reuters.
Timea Babos sported a classy A-line dress from Fila, which was simple, yet elegant.