'He's done a lot for the African American community, and it's cost him a lot. It's sad'
'To be compared to Ali or Jordan, I really have no words'
Serena Williams spoke in support of Nike Inc's decision to make former National Football League quarterback Colin Kaepernick the face of its new advertising campaign after she reached the semi-finals of the US Open on Tuesday.
Kaepernick sparked a national controversy by kneeling during the national anthem and was not offered a place on a team for the 2017 season.
He has since sued the NFL, accusing owners of colluding to blackball him and is still without a team.
Protesters burned Nike shoes and some consumers demanded a boycott after the footwear and apparel maker's unveiling of Kaepernick, while the company's shares fell on Tuesday, closing down 3.2 percent.
Williams, who said on Twitter she was "especially proud to be a part of the Nike family" after it unveiled Kaepernick a day earlier, commented on the issue after beating Czech Karolina Pliskova in straight sets to reach the semi-finals at Flushing Meadows.
"He's done a lot for the African American community, and it's cost him a lot. It's sad," she told reporters.
"Having a huge company back him ... could be a controversial reason for this company, but they're not afraid. I feel like that was a really powerful statement to a lot of other companies."
Both Williams and Kaepernick have endorsement deals with Nike.
In an on-court interview after her match, Williams was told that film director Spike Lee, who watched her on Tuesday, had compared her to fellow African American sporting icons Muhammad Ali and Michael Jordan.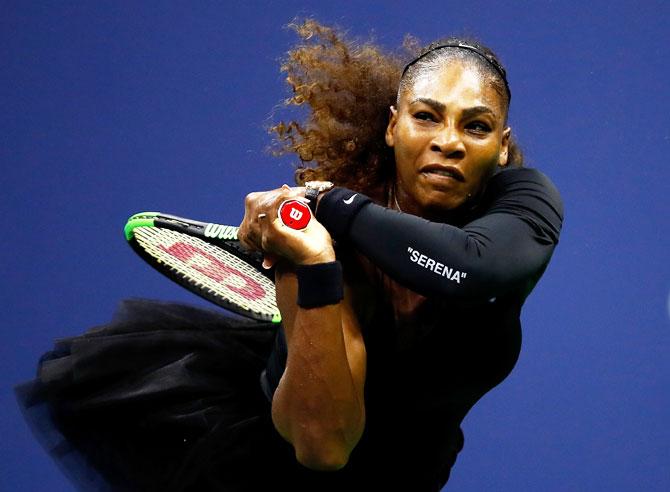 Former heavyweight champion Ali, who died in 2016, was known as much for his political activism as his boxing brilliance, speaking out racism, war and religious intolerance.
"To be compared to Ali or Jordan, I really have no words," Williams said.
"Mainly Ali, because he did so much for the sport, he did so much for the world, for everyone.
"That's what I want to do and want to be remembered for.
"It's not what I want to do on court, but how I can inspire people off the court, that's my dream."
US President Donald Trump has been critical of athletes taking a knee during the national anthem and has said he would love to see NFL owners fire football players who disrespect the American flag.
Williams said in her post-match interview that athletes should be given the freedom of choice to exercise their right to protest social injustice.
"I feel like they can choose or they can not choose. And it's their choice," she said.
"My choice is to choose to just be the best, try to be, I'm not always perfect. Actually I'm never perfect. Just try to be the best that I can be.
"Maybe I can just influence one person, and that makes a change already."