Mo Farah survived another stumble to get through to the final of the 5,000 metres and remain on course for the prized Olympic distance double-double.
IMAGE: Caster Semenya of South Africa, Ajee Wilson of the United States, Shelayna Oskan-Clarke of Britain and Wang Chunyu of China compete during the women's 800 metres at the Rio Olympics on Wednesday. Photograph: David Gray/Reuters
Hot favourite Caster Semenya qualified for the women's 800metres semi-finals at the Rio Olympics with supreme ease on Wednesday and will no doubt be braced for another wave of discussions about her gender should she go on to take the gold medal on Saturday.
The South African has dominated the event this season and there has even been speculation that she could take down Czech Jarmila Kratochvilova's 1983 record of 1 minute, 53.28 seconds - the longest standing athletics World record and widely considered to have been chemically enhanced.
Many observers consider Semenya to be also running with an unfair advantage, albeit one she can do little about.
After winning the 2009 World title as a 19-year-old, tests by the sport's governing body are reported to have revealed that Semenya was hyperandrogenous, resulting in her body producing an abnormally high amount of testosterone which makes her more powerful than her rivals.
An International Association of Athletics Federations (IAAF) rule limiting the amount of naturally occurring functional testosterone for female athletes appeared to have brought an end of Semenya's career, but the rule was quashed by the Court of Arbitration for Sport last year.
Semenya had struggled to rediscover the form of her breakthrough year - some observers blaming the dip on medication to reduce the testosterone - but this season she has roared back to her best and came to Rio with the two fastest times of the year and unbeaten on the Diamond League circuit.
IAAF president Sebastian Coe said last week that his organisation was planning an appeal against the CAS ruling, so this week could turn out to be Semenya's last chance for Olympic glory following her silver medal four years ago.
She won her heat in 1.59.31 and, though it looked as if she was enjoying a Sunday morning jog in the park, she said it was harder than she made it appear.
Belarusian Maryna Arzamasava and Canada's Melissa Bishop, first and second in last year's World championships, found themselves in the same heat but took both automatic qualifying spots for Saturday's final with the two fastest times of the day, just under a second quicker than Semenya.
Russian duo Mariya Savinova and Ekaterina Poistogova, first and third in the race in London four years ago, were unable to take part in Rio due to the doping ban on the country's athletes.
Farah survives scare to reach 5,000m final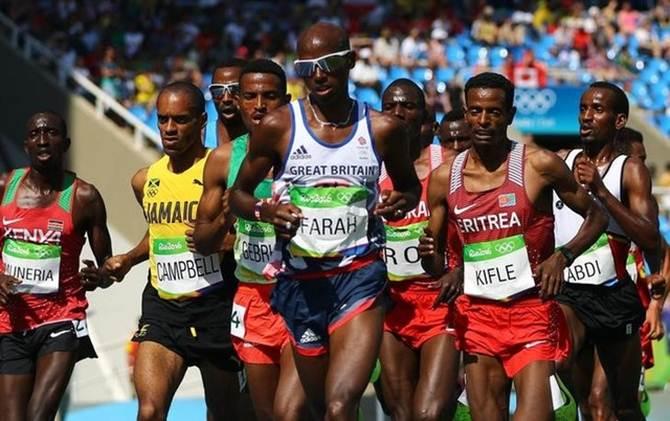 IMAGE: Great Britain's Mo Farah runs with the pack in the men's 5,000 metres heats at the Rio Olympics on Wednesday. Photograph: Kai Pfaffenbach/Reuters.
Great Britain's Mo Farah survived another stumble to get through to the final of the 5,000 metres and remain on course for the prized Olympic distance double-double.
Farah recovered from a fall to win the 10,000 gold four days ago and almost went down again in the last lap of his heat on Wednesday after being clipped by American Hassan Mead, who did fall to miss out on qualification.
Farah is seeking to become the second man after Finland's Lasse Viren (1972/76) to retain both the 10,000m and 5,000m titles but, said he still felt the effects of the longer race in his legs during Wednesday's run in 32degree heat.
"It's hot, I've just got to recover - I haven't recovered (from the 10,000m) as well as I'd wanted," Farah said.
"I got clipped, I just had to stay on my feet. But now I just have to recover, chill in my room."
Farah just about retained his balance after his stumble to qualify safely in a heat won by Ethiopian Hagos Gebrhiwet, who is likely to be one of his chief rivals in the final.
Gebrhiwet, 22, missed the 10,000m to concentrate his efforts on the shorter run after taking silver and bronze behind Farah over 5,000 in the last two world championships.
Dejen Gebremeskel, who took silver to Farah's gold in the London Olympics and also skipped the 10,000 in Rio, is also likely to challenge in the final, and qualified safely from the second heat.
Paul Chelimo, who switched allegiance from Kenya after joining the U.S. Army, was the fastest qualifier, running a personal best 13 minutes, 19.54 seconds, while another Kenyan-turned-American Bernard Lagat, at 41 appearing in his fifth Olympics, also made it.
Lagat won a bronze for Kenya at Sydney in 2000 - three months before Ugandan teenager Jacob Kiplimo was born. The 15-year-old missed out on the final.