Furious with the three boxers who alleged that trials for the upcoming World Championships were manipulated, Indian Boxing Federation President Abhishek Matoria, said on Friday, disciplinary action will be taken against them if they fail to prove their charges.
Matoria said that the onus is on the boxers to prove the allegations that the coaches and the selection committee were bribed and the trials were fixed to favour certain other pugilists.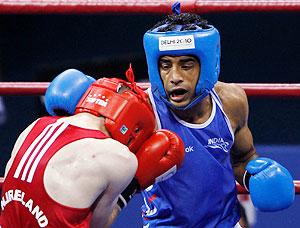 "It is a very serious offence in my opinion because it was not that trials were held behind closed doors. Everybody could see the winners and losers. If they fail to prove their allegations, disciplinary action will be taken against them," the BJP MLA, who is currently busy attending the Rajasthan Assembly's Monsoon session, said.
The selection of the Indian team for the World Boxing Championships ran into a controversy with Arjuna awardee Dinesh Kumar (91kg), national champion Dilbag Singh (69kg) and Praveen Kumar (+91kg) alleging that the coaches and the selection committee were compromised.
"The matter will be referred to an IBF disciplinary committee and the boxers will have to prove who took the money, how they were better in the trials," he said.
"If they had a grievance, they should have come to the Federation instead of going to the media and making wild allegations. They have questioned the integrity of individuals who have served Indian boxing for such a long time," a furious Matoria said.
"Indian boxing is already going through a very tough time because of the international suspension and to add to this, these guys have created a storm out of nothing.
"I can promise that action against them would be very swift and strict once they have been given a chance to prove their allegations," he added.
Asian Games silver-medallist Manpreet Singh (91kg), Asian Championships silver-medallist Mandeep Jangra and reigning national champion Satish (+91kg) were the boxers who were picked ahead of the disgruntled trio for the October 11 to 27 World Championships in Kazakhstan.
The three were beaten in exciting open trials in Patiala in front of a packed hall of fellow boxers and a selection panel which included veterans like Mehtab Singh and Padam Bahadur Mal besides IBF Secretary General Rajesh Bhandari.
An 11-time national champion and former Commonwealth champion, Dilbag, had gone to the extent of saying that Arjuna awardee Akhil Kumar, who has mentored Mandeep, was behind his name being struck off from the selected list.
"To drag a person of Akhil's stature into this is also unacceptable. He has given so much to Indian boxing and he has every right to feel offended because he has never ever indulged in any kind of manipulation like this. It is completely understandable if he is planning to sue," said Matoria.
Akhil has already stated that he would take Dilbag to court for defamation.