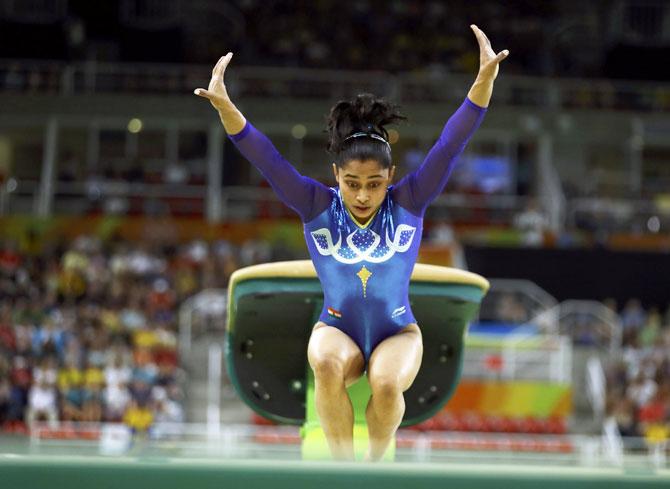 IMAGE: India's Dipa Karmakar competes in the Vault final at the Rio Olympics on Sunday. Photograph: Mike Blake/Reuters.
Indian athletes have disappointed at the Rio Olympics so far (Monday), unable to win a single medal.
But there were two remarkable performances: Dipa Karmaka's historic fourth place finish in the Artistic Gymnastics' Vault final on Sunday and Lalita Babar's 10th place finish in the 3000m Steeplechase on Monday.
These performances have come in events India had no presence in the past.
Former India batsman Virender Sehwag, who is active on social media, made a special request to Prime Minister Narendra Modi on Independence Day to honour Karmakar and Babar for their never-say-die spirit.
Sehwag cited the personal situations of Dipa and Lalita rising against all odds and requested the Prime Minister and Railway Minister Suresh Prabhu that a train or plane be named after the two athletes.
In a long tweet, he said: "Everyone likes saluting the rising sun. Through our champions in Rio, have thus far not won a medal for their incredible efforts and skills, the way some of them have fought against all odds has been amazing.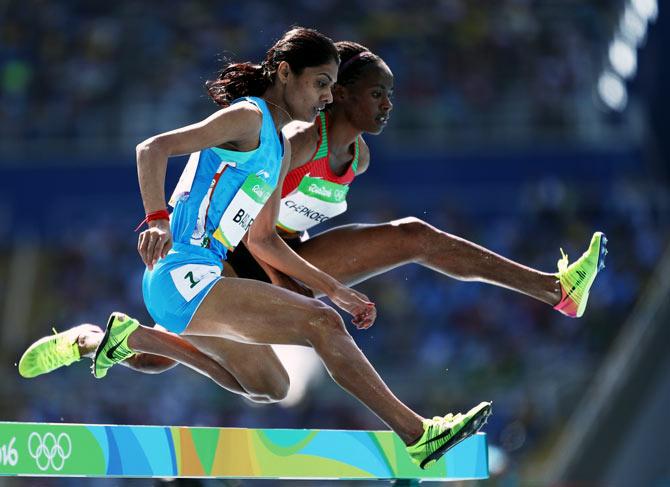 IMAGE: India's Lalita Babar competes in the women's 3000m Steeplechase during the Rio 2016 Olympic Games. Photograph: Paul Gilham/Getty Images.
"What two young bright girls Dipa Karmakar and Lalita Babar have achieved despite the enormous challenges they have faced through their personal situations is truly exceptional.
"It's important that we honour their efforts. I would request Prime Minister Narendra Modi ji to consider naming a special plane and a train after these two athletes, which in a way will encourage parents and inspire youngsters to take up less popular sports as a career," he posted.
He also lauded Dipa's performance on Sunday.
"Thank u Dipa Karmakar for getting us united at midnight cheering for Gymnastics, in a country with no infrastructure for this sport. Super Proud!" Sehwag had tweeted.