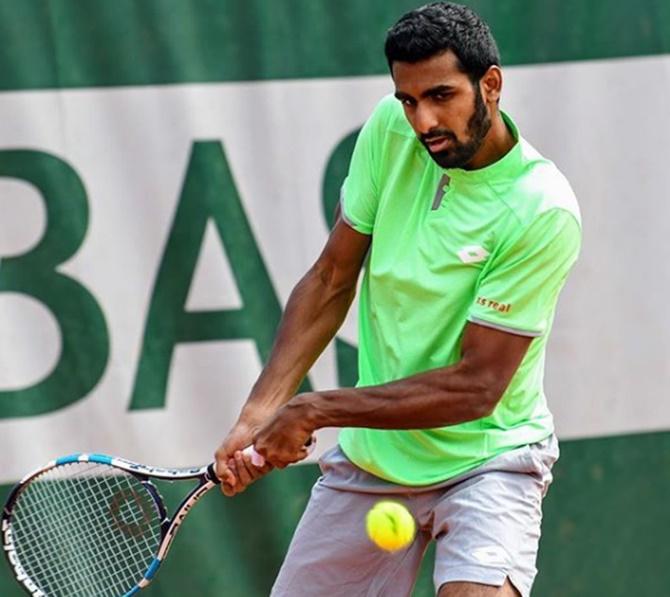 India's top tennis players Yuki Bhambri, Prajnesh Gunneswaran and Divij Sharan returned to the courts after over two-and-a-half months.
Gunneswaran ranked 132 in the world, hit with talented Sasikumar Mukund and Manish Sureshkumar at the SDAT Nungambakkam stadium in Chennai.
Like other sports, tennis has come to a grinding halt due to the COVID-19 pandemic with tournaments across the globe, including Wimbledon championships, being cancelled.
"It was good to play tennis after so long. It will take some time to get back to the routine. But it was fun to be back after such a long break," the 30-year old southpaw said.
Prajnesh said he would begin slowly with short sessions and then build up.
"I am just going to start slowly. Shorter sessions."
The Tamil Nadu Tennis Association (TNTA) has granted permission to only Prajnesh, Mukund and Sureshkumar to use the court facilities as of now.
The former India No 1, Yuki Bhambri, also returned to tennis court.
Bhambri has not played a competitive match since October 2018 after battling a debilitating knee injury that wasn't correctly diagnosed for months and led to a layoff that is 20 months.
The 27-year-old was hoping to make a return to competitive tennis around the clay-court swing this year.
Bhambri was spending time at home in Delhi, trying to get whatever fitness training he can at home with the tennis courts shut amid the nationwide lockdown but he knows it's not enough.
Lockdown meant that the timeline for recovery is extended.
Video Courtesy: Divij Sharan/Twitter
Earlier, Divij Sharan's long wait finally ended with India's world No 56 doubles specialist having his first on-court training session in Manchester, where he currently resides.
The 34-year-old thus becomes one of the first elite Indian sportspersons to resume proper training, impacted across sports by the global pandemic.