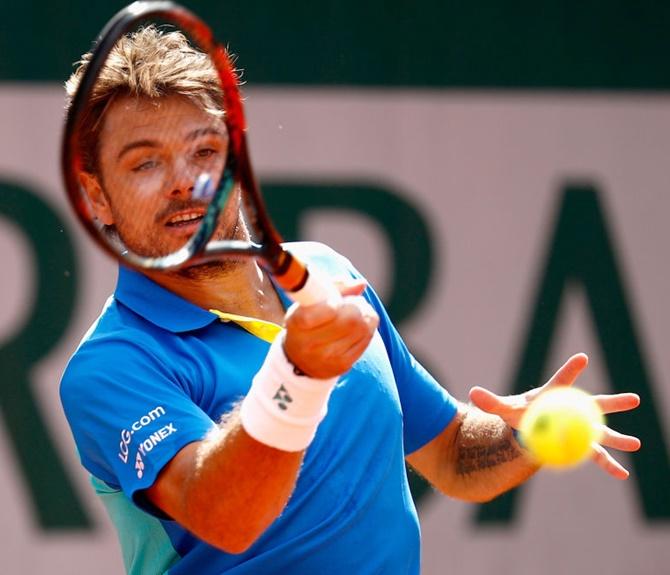 IMAGE: Stanislas Wawrinka of Switzerland plays a forehand. Photograph: Adam Pretty/Getty Images
If Stanislas Wawrinka's hot streak extends another four days, the Swiss might be unstoppable in his quest for a second French Open title, three-time former champion Mats Wilander told Reuters.
Third seed Wawrinka outclassed Marin Cilic 6-3, 6-3, 6-1 in the quarter-finals on Wednesday and next opponent Andy Murray should be rightly concerned, according to the Swede who describes Wawrinka's run so far here as 'scary'.
"He can win it," Wilander, in Paris as a presenter of Eurosport's daily flagship show 'Game, Set and Mats', said.
"Not many players can 'win' a Grand Slam like Stan, they can prevent losing it by wearing the other guy down, but he can go out there and win it off his racket."
Despite having as many Grand Slam titles as Murray (three), Wawrinka is often positioned just below the so-called 'Big Four' of Roger Federer, Rafael Nadal, Novak Djokovic and Murray when it comes to making predictions for majors.
But Wilander does not really buy into that, especially when Grand Slams reach the second week.
Wawrinka has won all 15 sets he has played here so far, knocking over dangerous opponents like Fabio Fognini, Gael Monfils and Cilic without any alarms
Against Cilic he won 79 per cent of points on his second serve and won half the points off the Croatian's mighty delivery.
"He is playing great tennis. Very aggressive, but controlled," Wilander said.
"He blew the seventh seed off court. That's some seriously good tennis.
"Wawrinka in these majors, he is as big a favourite as Federer, Nadal, Djokovic and Murray these days, no difference between the five of them.
"Second week of the Slams he is part of the big four, big five. Actually of the guys left, Nadal might be a little less scared of Murray who plays a more controlled game.
"Wawrinka and (Dominic) Thiem are wild, they can be scary for sure. Nadal hasn't won this yet."
While Nadal has only dropped 22 games in reaching the semi-finals -- better than when he was in his pomp in 2008 -- Wilander thinks the fact that it is three years since the Spaniard lifted the trophy could add some pressure.
"He maybe has a little more to lose," Wilander said of the 31-year-old chasing an unprecedented 10th French Open.
"His confidence is high but he won't be looking too far ahead. He will be the first to say you have to hold on for a long time to win this thing."