'I am feeling a little embarrassed but I'm doing everything that I can to recover well to compete again on Friday'
'I'm not a fan of drama, of this sort of thing, so I did the best I could with the cards I had'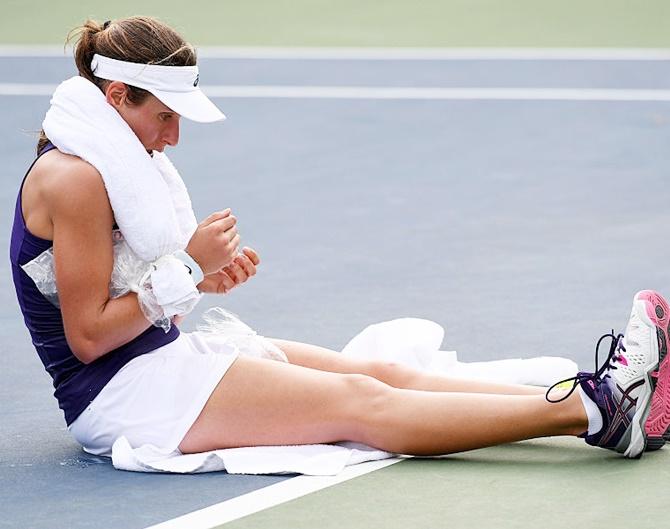 IMAGE: Johanna Konta of the United Kingdom falls to the ground against Tsvetana Pironkova of Bulgaria during her second round women's singles match on Day Three of the 2016 US Open at the USTA Billie Jean King National Tennis Center. Photograph: Mike Hewitt/Getty Images
British 13th seed Johanna Konta felt 'embarrassed' after recovering from a health scare at a humid US Open on Wednesday to claim her place in the third round with a 6-2, 5-7, 6-2 win over Bulgaria's Tsvetana Pironkova.
Konta was leading by a set but serving at set-point down in the second when she suddenly dropped to her knees, shaking and struggling to catch her breath as temperatures neared 88 degrees Fahrenheit (31 degrees Celsius).
After receiving extensive treatment, including ice bags, first from the umpire and later from a doctor, Konta dropped the set on a double fault.
But after a bathroom break between sets, the 25-year-old recovered in time to set up a third-round clash with Belinda Bencic of Switzerland.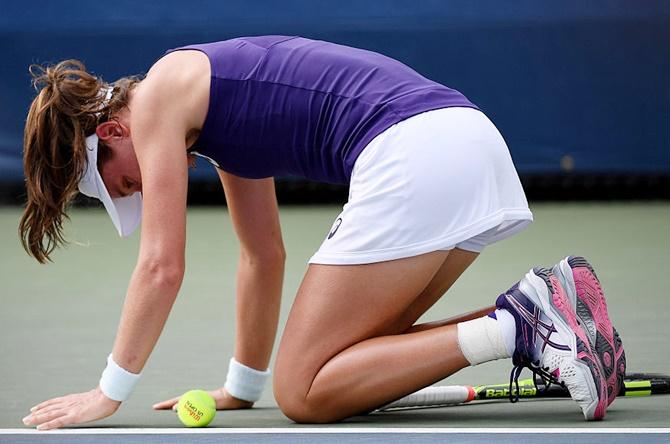 IMAGE: Johanna Konta lies on the ground. Photograph: Mike Hewitt/Getty Images
"I am feeling a little embarrassed but I'm doing everything that I can to recover well to compete again on Friday," said Konta, before disclosing that she had suffered a similar health scare four years ago.
"I was feeling the conditions and my own energy levels ... basically my heart rate spiked, I couldn't really control my breathing and I started shaking ... that's why I went down on the ground.
"Because I'd experienced it once before, I didn't start crying. I don't know if anyone's had a panic attack, but that's basically what it feels like except my muscles are shaking as well."
Because of her previous experience, Konta knew that she needed to get ice treatment as quickly as possible, "to try to get my breathing down, just really calm myself down and in turn my muscles and my heart calmed down as well".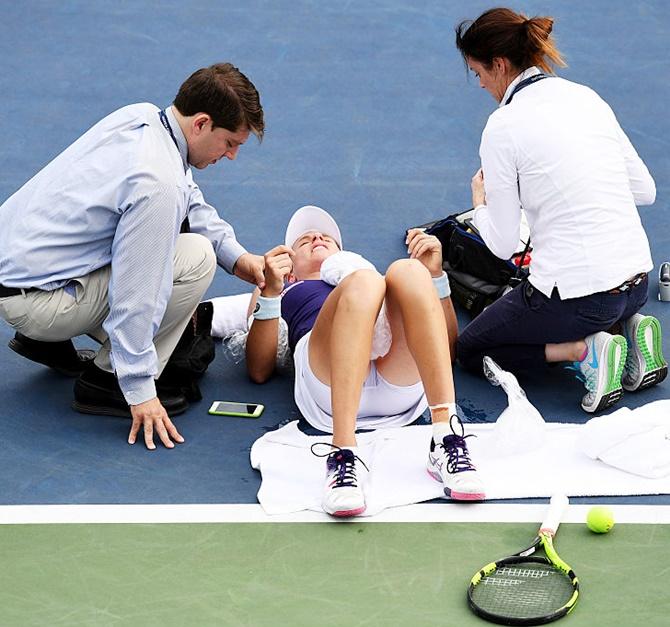 IMAGE: Johanna Konta of the United Kingdom is tended to by the trainer against Tsvetana Pironkova of Bulgaria. Photograph: Mike Hewitt/Getty Images
Konta suggested that a long season had left her short of energy.
"It's hard to feel the difference between general tiredness, general fatigue, once you cross over to where your body starts shutting down a bit," she said.
"I think all athletes play a very fine line with that. We push our bodies to the limits that they can go. I definitely hit one of my limits.
"Good thing that mentally I was able to stay as calm as I did and to really just keep trying my best."
Pironkova said she did not want to make excuses but felt that her momentum had been halted by Konta's bathroom break.
"She won because today she played better," the Bulgarian said. "Obviously she wasn't feeling well, I could see that.
"What was frustrating for me was the toilet break. I think the match was stopped for just too long. It was unfortunate. I had my momentum going, I was getting back in the match. That break maybe stopped that momentum."
Konta said the bathroom break had been a necessity.
"I needed to get changed out of my clothes, I was soaked through," she said. "I'm not a fan of drama, of this sort of thing, so I did the best I could with the cards I had.
"My opponent was gracious and was, I felt, understanding of the situation."