Satnam Singh -- who has just signed up for the United Basketball Alliance in India -- endured a tough time with the Dallas Mavericks in the NBA, but the lad from Punjab isn't ready to give up just yet, says Dhruv Munjal.
>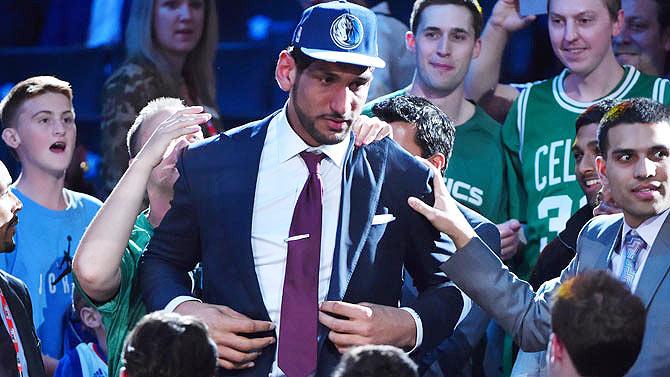 IMAGE: Satnam Singh at the NBA Draft in 2015. Photograph: Kind courtesy NBA India/Facebook
"Meri toh game hi barbaad kar di (They ruined my game)."
Satnam Singh belies the old truism of strapping men being largely unsentimental.
He likes to bare his emotions more openly, and it would be no overstatement to say that his time in the NBA wasn't pleasant.
"It is not something I want to recall. It was a very difficult phase," he says.
The step up to the world's best basketball league was always going to be difficult, but not necessarily so miserable.
When the Dallas Mavericks picked Singh in 2015, he became the first Indian-born player to be drafted into the NBA and the first to become a part of the draft without playing in college.
At the time, the 21 year old was perhaps destined to get a chance to share the floor with Dirk Nowitzki, one of the finest NBA imports ever, and also get to play on the same home patch as Dennis Rodman.
Yes, Dennis Rodman!
Rodman's brazen hobnobbing with Kim Jong-un in this charged climate of ballistic missile testing makes him a deeply polarising figure in America, and it is easy to forget that he played some seriously good basketball not so long ago -- so impressive that he was inducted into the Mavericks' Hall of Fame in 2011.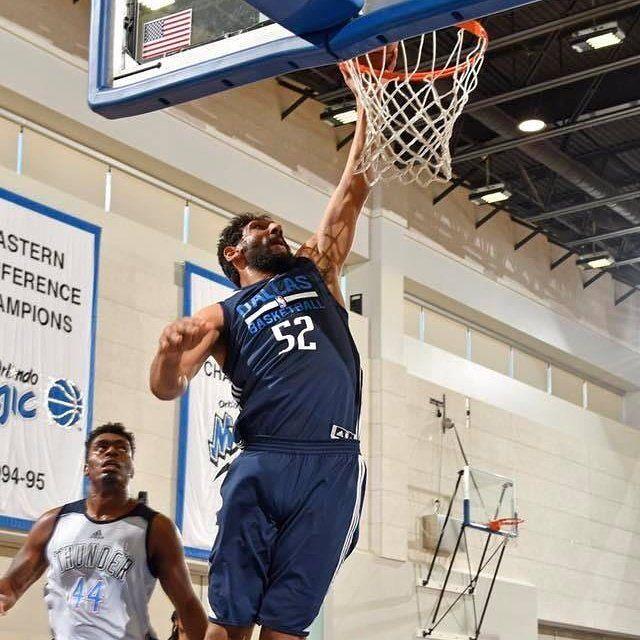 IMAGE: Satnam in action. Photograph: Kind courtesy Satnam Singh/Twitter
With shadows of legends past and present lurking, it all looked promising for Singh.
Then, it all went downhill.
After a few appearances for the Mavericks in the NBA Summer League of 2015, Singh was shipped to the Texas Legends, a minor league affiliate of the Mavs.
The Summer League is a series of off-season competitions that sees teams trying out different players ahead of picking their final roster for the regular season.
The notably lower level of competition didn't translate into immediate success for Singh.
He found himself desperately scrapping for game time at the Legends, too, featuring in only eight of the 42 games last season.
And whenever an opportunity arrived, Singh seemed woefully out of his depth.
"The coaching staff didn't work with me at all. They kept telling me how I was very young and my time will come," he says.
"I had to work on my game and fitness all on my own. There wasn't a lot of help at hand."
Even as his teammates sped across the floor sweeping teams aside, comfortably winning the Orlando Pro Summer League -- one of the three tournaments that formed a part of the 2017 NBA Summer League -- the 7' 2" Singh watched forlornly from the bench.
"Not playing was the most difficult part. That got extremely frustrating in the end," he explains.
The hyper-competitiveness of the NBA can make it a savage experience, especially for foreign players.
Chances to shine are infrequent and those who misfire are quickly pushed into the wilderness.
Even Justin Anderson, the other player drafted by the Mavs along with Singh two years ago, was traded to the Philadelphia 76ers earlier this summer despite some admirable showings. The Mavs had the option of extending his contract by another year.
But Singh was perhaps well aware of what awaited him in the NBA; he was exposed to the rigours of American basketball much before he was thrust into the playground of the big boys.
Singh's father Balbir had chosen basketball for him much before he was born.
Balbir, 7'1" himself, spent much of his youth unemployed and languishing in poverty in Punjab's Ballo Ke village.
'If my son grows up to be as tall as me, I will make him a basketball player,' he declared to his family.
That's why once Singh turned 14, Balbir happily sent him away to train at the IMG Academy in Florida, a sports boarding school of sorts that has nurtured several future American Olympians over the years.
"Going there wasn't easy. The place itself, the food, staying away from my family... but the time at IMG initially helped me improve my game," says Singh.
"There was a lot to learn."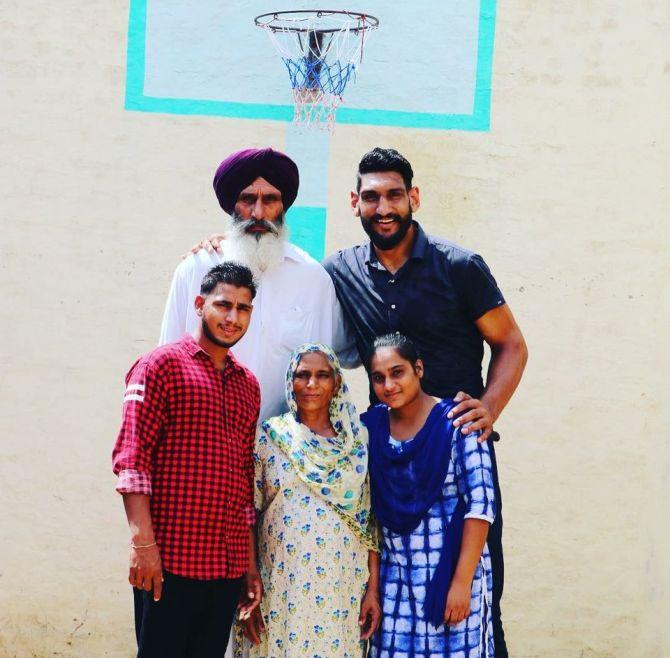 IMAGE: Satnam with his family. Photograph: Kind courtesy Satnam Singh/Twitter
Some even see the Mavericks' decision to sign Singh as one mainly motivated by the massively rewarding nature of the Indian market.
India is one of the NBA's fastest growing businesses in Asia; in May, it opened its first academy in Noida, just outside Delhi, with a batch of 21 young men chosen after a three-month talent hunt.
"I don't care about that. For me, it was all about opportunity. Had they trusted me more, I would have shown them what I have got," feels Singh.
And he isn't shy to admit that the pressure of being the first Indian to play in the NBA wasn't always easy to handle.
"Mujhe apne aap ko bura nahi dikhaana tha (I didn't want to make myself look bad). So that did play on my mind sometimes," he says.
Mark Cuban, the Mavericks owner, is known to back the young and budding -- very apparent from his involvement in the start-up-funding reality show Shark Tank -- and only he can tell what the franchise's real purpose was for lapping up the youngster.
Singh, while palpably distraught but not one to give up hope, has been spending some of his time after coming back home playing 3x3 basketball -- played on half a court with a smaller ball and six players in all.
"3x3 is fast and can help develop your game. It's a good way of getting youngsters to play basketball." he says.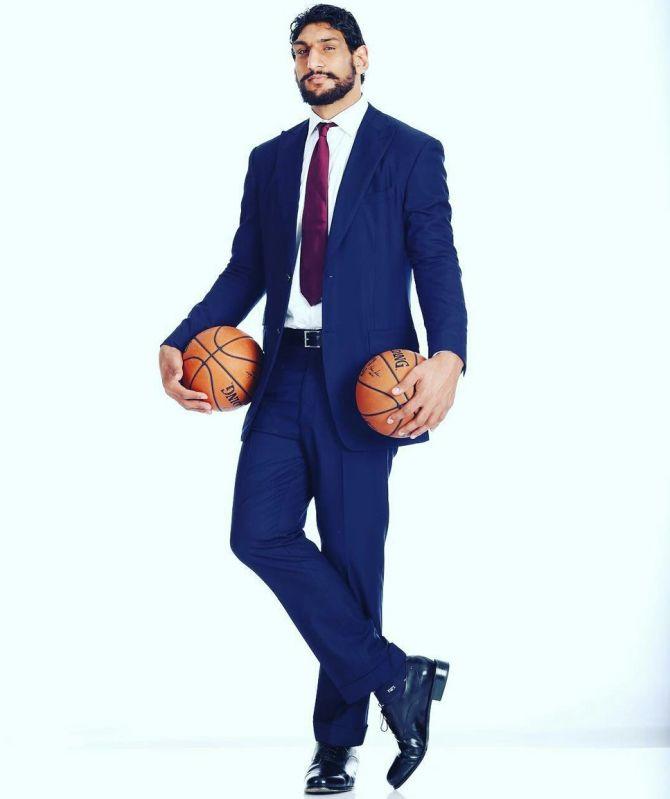 IMAGE: 'Two years ago on this day, I was drafted into the #NBA as the 1st ever #Indian born NBA player,' tweeted Satnam in June. Photograph: Kind courtesy Satnam Singh/Twitter
Ever since he's returned, Singh has seen the popularity of the sport burgeon.
"It's such a nice change. The awareness is great now. Moreover, with something like the UBA Pro Basketball League -- India's first such pro tournament launched in 2015 -- the potential is huge," he stresses.
His whirlwind time in the NBA may seem like an awful lot to take in, but this is just the beginning for Singh.
In Ludhiana, he has been working furiously on his fitness, a worry that has so often crippled his game.
As a lumbering centre, his sluggish movement was always a concern during his time at the Mavs, with him often panting his way up and down the floor.
It wasn't a pretty sight. Some of the coaches even got him to shed some weight.
No big centres -- the Shaquille O'Neils and the Yao Mings of this world -- have ever possessed gazelle-like swiftness but have still enjoyed magnificent careers.
My focus is on taking my game to the next level. Playing for India and Punjab are the priorities right now. We will see how it goes after that," says Singh.
Somewhere in his mind, however, the prospect of a return to the NBA and the adulation that comes with it lingers large.
"That is still the ultimate goal, an unfulfilled dream. Why wouldn't I want to go back?"