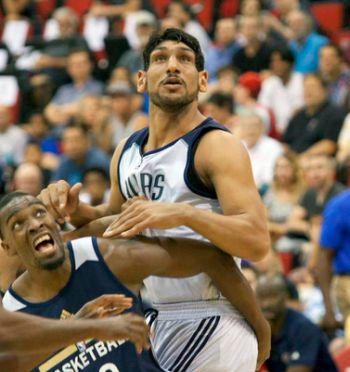 Satnam Singh made his second consecutive appearance for Dallas Mavericks as they ended up on the losing side against Portland Trail Blazers in the 2015 NBA Summer League in Las Vegas on Sunday night.
Dallas Mavericks lost 80-93.
Satnam played 12 minutes, totalling four points and two rebounds. In his first game, against the Pelicans, he had four points, three rebounds and one assist.
First-round pick Justin Anderson went 2-9 from the field in 32 minutes, totalling five points.
Third-year Blazers guard Allen Crabbe, who was selected 63rd overall in the 2013 draft, scored a team-high 24 points on 9-of-13 field goal shooting and 3-of-4 from 3-point range.
Tim Frazier, the 2014 NBA Development League MVP and Rookie of the Year, added 14 points on 6-of-11 shooting and five rebounds for Portland. The formerly undrafted guard out of Penn State had also had a game-high eight assists and grabbed five rebounds.
Nineteen-year-old forward Noah Vonleh, selected ninth overall in the 2014 draft, scored 13 points on 4-of-9 shooting and 5-of-7 from the free throw line to go with seven rebounds.
Portland had a 48-32 advantage at the half and led by as much as 21 with just under four minutes to play.
With the game well out-of-reach in the fourth quarter, third-year Mavericks forward Dwight Powell scored 12 of his game-high 25 points in the final period to go with a game-high eight rebounds. The 23-year-old Stanford alumnus was 7-of-16 from the field, 4-of-12 from 3-point range and 7-of-10 from the free throw line for Dallas.
Image: Satnam Singh
Photograph: Twitter