US basketball legend George 'The Iceman' Gervin feels that 15-year-old, 7-ft two-inches tall Satnam Singh Bhamara can become the first Indian to play in the glamorous NBA if he shows passion for the game.
"He became famous for his height. He is famous before he's even played a ball. If he gets good training, works hard, and shows a lot of passion, he can play for India. Hopefully, he will show the passion, otherwise there is no use of him being tall," Gervin said.
"If he does, he can be the first player from India to be in the NBA," added the three-time NBA champion who was voted to the NBA's 50 Greatest Players list in 1996.
The Punjab teenager Satnam has made waves in the Indian junior basketball circles and was selected for the scholarship for the IMG Basketball Academies in Florida, USA.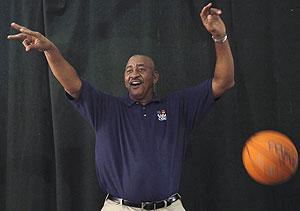 An advice from one of the biggest basketball players in the history of the game is a good sign for Satnam, whose name was first mentioned by WNBA legend Katie Smith, when asked whether she had heard about any players from India.
Gervin who was known for his signature move, the finger-roll, a shot in the ball is rolled along the fingertips, said he had not invented the move, though he had popularised it.
He recalled how his team-mates had accused him of stealing the finger roll from them and making it his own and he quipped, "I learned a piece from each of you guys and took it to another level."
Gervin said though he didn't value education during his school days and completed schooling only because his mother -- a single parent and his 'hero' -- forced him to, he wanted to ensure that good education to underprivileged kids through his foundation -- George Gervin Academy.
The 36-year-old Smith, a six-time WNBA All-Star for the Washington Mystics who became the first professional woman player to score 6000 career points, said the trip to India was an opportunity for her to share knowledge of the game.
Gervin and Smith are in India till March 2 and will conduct basketball clinics for Indian youth, meet university students and participate in local community events in Mumbai and Delhi.