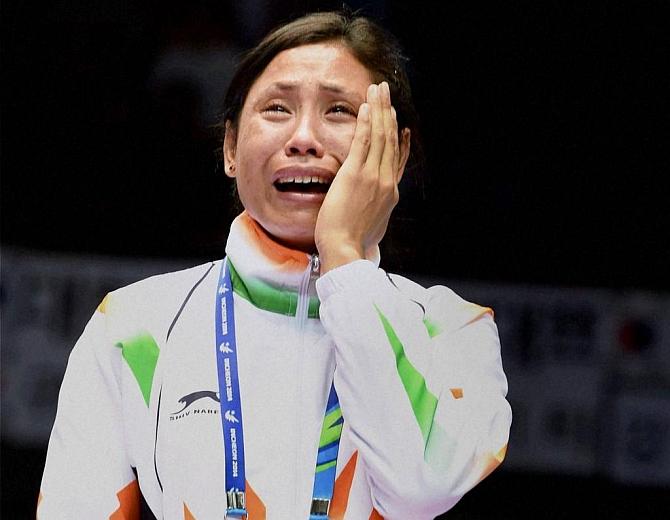 Sarita Devi on the Incheon Asian Games podium. Photograph: PTI
Legendary sprinter Milkha Singh criticised boxer Sarita Devi for refusing to accept the bronze medal during the Asian Games' victory ceremony last year, saying her act brought a bad name to the country.
Milkha, who missed a bronze medal by a whisker in the 400m at the 1960 Rome Olympics, said athletes should uphold the country's reputation at all cost.
"Her (Sarita) act brought a bad name to the country and she should not have done that. She might have been hurt (by the decision of the judges) but she should not have refused to accept the medal at the victory podium," he told reporters at an athletics grassroot initiative in New Delhi.
"It was not proper on her part to protest in that way. There were coaches and officials to lodge the protest. The most important thing for an athlete is not to bring a bad name to the country," the 86-year-old 'Flying Sikh' said.
Though the Manipuri pugilist received the backing of the government and other sportspersons, who pleaded with the International Boxing Association (AIBA) to take a lenient view of her protest, Milkha disapproved of her actions.
Sarita refused to wear her bronze medal at the victory ceremony after her semi-final loss to South Korea's Ji Na Park at the Incheon Asian Games in October, triggering a huge controversy. She was later handed a one-year ban by the AIBA.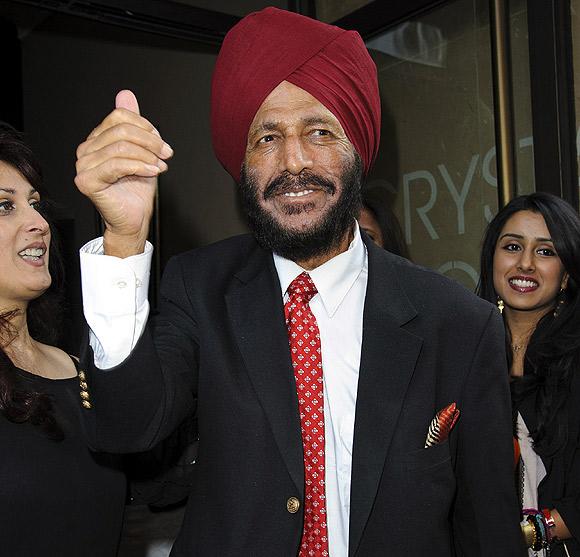 Milkha Singh attends the gala screening of Bhaag Milkha Bhaag at The Mayfair Hotel in London. Photograph: Ben A Pruchnie/Getty Images
The legendary runner also disapproved of Saina Nehwal's statement that she was a deserving candidate for the coveted civilian award, Padma Bhushan.
"We (athletes) should not hanker after government honours. Our job is to perform and get medals and laurels for the country. It is the job of the government to recognise your achievements and service to the country and confer you awards and honours," he said.
"I was awarded the Padma Shree in 1958 and later (in 2001) the government recommended me for the Arjuna award which I refused to accept. I was not considered for the Arjuna award for so long and why would I accept it after getting the Padma Shree?" he added.
Meanwhile, six young school children in the age-group of 12 to 14 will get free education and full-time training at a residential academy under the 'GAIL - The Fastest Indian' initiative', a talent hunt programme aimed at identifying potential Olympic medal winners in athletics.
Fifty boys and girls, out of 5000 school children, were chosen after a three-month talent hunt programme in 19 cities. They took part in the grand finale in the 100m, 200m and 400m (both boys and girls). The six winners will get full-time training at the Ashwini Nachappa Sports Foundation in Coorg, Karnataka.