Services won the 66th National Football Championship, for the Santosh Trophy, beating Tamil Nadu 3-2 in the final at the Barabati Stadium in Cuttack, on Monday.
Midfielder Sanju Subba opened the scoring for Services in the 45th minute -- his right footer curling away from Tamil Nadu goalkeeper Akhil Soman to bulge the net.
After the change of ends, Subrata Sarkar doubled the lead in the 49th minute while VV Farhad tapped the ball past an onrushing Soman for Services' third goal in the 67th minute.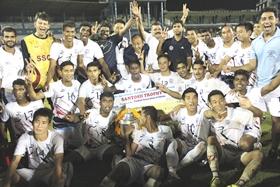 Santa Kumar and M Ramesh reduced the margin for Tamil Nadu, scoring in the 82nd and the 89th minute respectively.
Services' VV Farhad was declared the man-of-the-Final as the team pocketed the winner's purse of Rs 500,000.
Tamil Nadu had to be content with the runners-up purse of Rs 300,000.
The match was delayed by 90 minutes due to heavy rain prior to the kick-off.
This is Services second triumph in the tournament in seven entries to the final, for Tamil Nadu, runners-up in 1972-73, the wait continues.