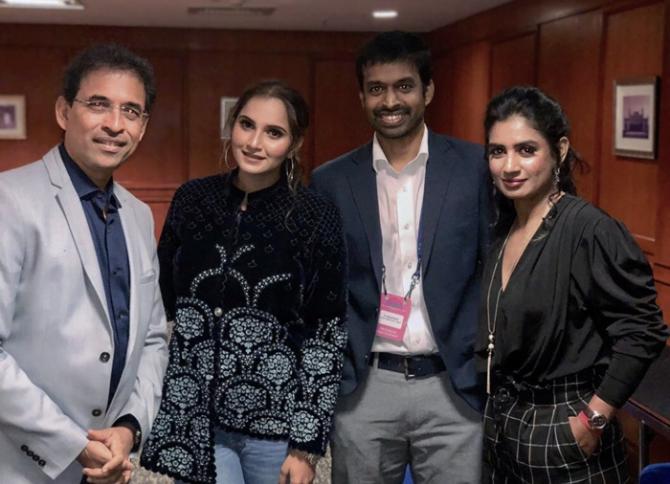 IMAGE: Harsha Bhogle, Sania Mirza, Mithali Raj and Pullela Gopichand. Photograph: NITI Ayog/Twitter
Sporting biggies, including Sania Mirza, Mithali Raj and Pullela Gopichand, on Wednesday, sent out a strong message on encouraging women players and developing essential infrastructure to promote sports in the country.
Participating in a session on sports at the Global Entrepreneurship Summit (GES) in Hyderabad, Indian women's cricket team captain Mithali made a pitch for upgrading sports infrastructure at schools so that more and more girl students can get a chance to play.
She backed up her argument, saying that after the Indian team's success in recent Women's World Cup tournament, a lot of young girls have started showing interest in taking up sports, including cricket, but lack of proper infrastructure is coming in the way.
India put up a strong show in the previous edition of the Women's World Cup though it lost out to England in the final.
"I don't get to see schools having infrastructure for sports or the school emphasising on sports... they do not have that right kind of channel," she pointed out.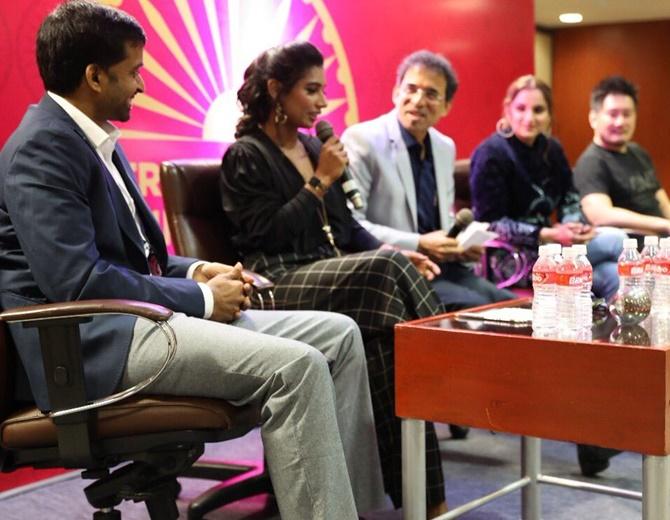 Replying to a question about the ways to get more women to play sports, Sania said media can play a crucial role by encouraging women sportspersons.
On whether women athletes are tougher, Mithali's reply was they are because they handle more societal pressures.
Though the country has young girls who aspire to become a cricketer or take up sport, there is no proper system lined up for them, she regretted.
As sports has become highly competitive, Mithali said there is a need to have everything in place so that a young girl who aspires to be a player knows the road map.
Speaking at the session, tennis ace Sania pointed to the growing interest among girls to play the sport.
"When I started playing, we used to play on cow dung courts, there was no hard or clay court... Now, for under 14 or 16 years of age, you get at least 1,000 entries and that shows there is an interest among both girls and guys, but girls, I think, a lot more because of opportunities," she added.
Asked whether there is a hunger building in the country to turn to sports, noted badminton coach Gopichand said people are playing more sports, especially the organised one.
To a question on who should run sports, he opined that the government would need to play its role because "if the industry were to run sports, it will run a few sports".
He maintained that traditional sports like wrestling, kho-kho, kabaddi, archery and malkhamb do not require expensive equipment and can be played in a small area.
"... this is what the traditional sport was. We have moved from that space where people play for that reason to a space which goes into marketable, advertising... expensive equipment," Gopichand added.
About packaging of sports like kabaddi, he said the sport is great example of how things could turn around.
Gopichand also emphasised on the need to recognise local talent.
"We need to celebrate our local players. Sports diplomacy, sports entrepreneurs, sports physiotherapists, sports administration, all of them need to be looked at. We need to celebrate sports by itself," he suggested, making the point that "sports needs to be played, it is beyond winning".