'We never exerted any kind of pressure on Sania to win'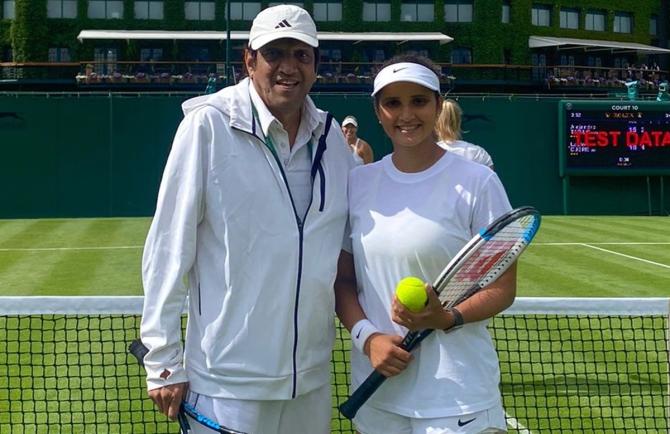 It is hard to believe but it has been 30 years since Sania Mirza picked up a tennis racket for the first time in her life.
Of course, she was gifted with phenomenal talent and it did not take me long to understand this. I have only played club level tennis and some state ranking tournaments in my younger days but have watched and followed the game meticulously and analytically since I was a schoolboy.
I was never a great tennis player but I believe I had a very sharp eye and an analytical brain for the game.
Sania was destined to earn laurels and fame in a sport that she adored. Many famed coaches on the Tour have told me privately that just as God had gifted Sania with abundant talent in tennis, he had also gifted me with the power of observation and understanding of the game to nurture her tennis talent and temperament.
God had also endowed my wife with very special skills that absolutely complemented mine at building a professional career in sport for our daughter.

RIGHT ATTITUDE


The sporting background of my family was what helped us handle losses and wins with the right attitude and this went a long way in building the perfect temperament for Sania as a tennis player.
Tennis is a game that is won or lost in the head and mental strength is of paramount importance. Temperament is the biggest contributor to success and I believe that as parents, our biggest contribution was in playing our part in making Sania fearless on the tennis court.
When a child loses on the sports field, he or she is never bothered about what the world thinks of the loss. But what mentally and psychologically affects the child immensely at that tender age is the attitude of the parents while dealing with the loss.
The child's temperament is shaped by the parents response to his or her failures and losses. I was very conscious of this from the day Sania picked up a tennis racket and we have never ever exerted any kind of pressure whatsoever on her to win.
The focus was always on giving her best and as long as she did that we were happy and literally celebrated on the day she lost to give her a feeling of being supported.

SANIA'S TEMPERAMENT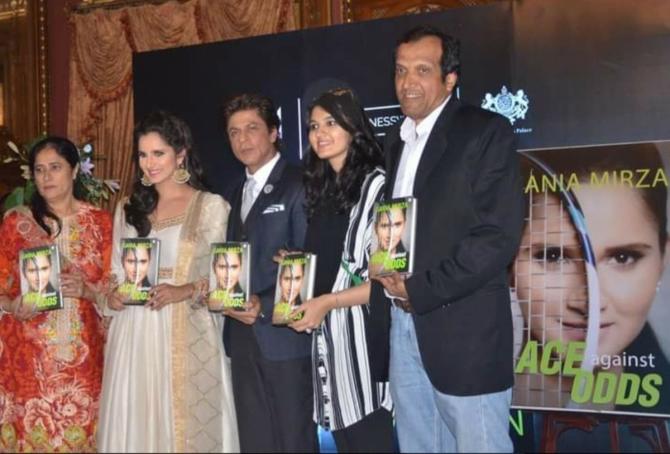 For years, people have talked about Sania's unflappable temperament under pressure, her fearlessness and how she has the capacity to come up with brilliance when facing difficult situations during matches.
I believe that comes from the confidence which we built in her when she was a child that, as parents, we would always be supportive of her and that winning and losing were all part of the game.
While Sania was developing as a tennis player, I had the good fortune of working in tandem with some of the world's renowned coaches and that gave me the confidence to coach Sania over the last decade and more.
I have worked alongside Tony Roche (while he was simultaneously coaching Roger Federer), (Late) Bob Brett (who coached Boris Becker and Goran Ivanisevic among others) and Sven Groeneveld (who coached Maria Sharapova).
They all added to Sania's game and I learnt the finer points and nuances of tennis from these illustrious coaches. I then used that knowledge to adapt those techniques, that I had learnt from them, to suit the Indian body. This is where I believe I was able to get the best out of Sania as a tennis player.

SUCCESS REQUIRES SACRIFICE

It takes a lot of sacrifice and effort to produce an international tennis player. Our entire family had a passion for tennis and we were ready to go the extra mile and to do anything it takes to help Sania achieve what no girl from our country had ever achieved in the game.
We were never doing it for the money or for the fame. Whatever effort we put in was purely for the passion that we had for the sport and to give India a world-class women's tennis player - the kind of which our country had never seen before.
As we look back at the three decades since Sania picked up the racket as a six year old, we have a feeling of great satisfaction and pride at a job well done.
We are proud to have given India not only a tennis player, who achieved stupendous success on the international stage for two decades but also a role model, who has given millions of young girls and even boys the belief that nothing is impossible to achieve in any field as long as one has the dream, the faith and the willingness to work hard with single-minded dedication.
© Copyright 2023 PTI. All rights reserved. Republication or redistribution of PTI content, including by framing or similar means, is expressly prohibited without the prior written consent.