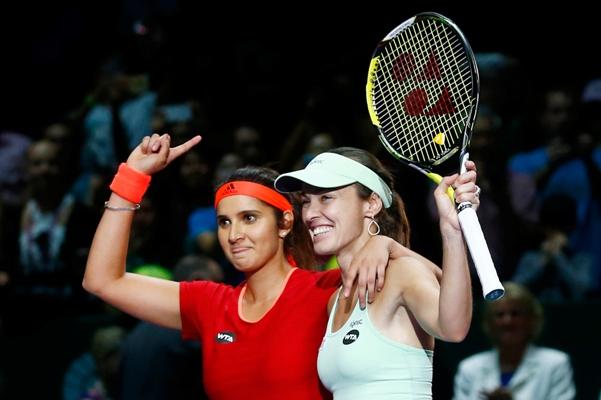 Sania Mirza and Martina Hingis on Thursday announced that they will join forces once again at the WTA Finals, which is scheduled to be held in Singapore later this year.
In a joint statement posted on Twitter, the top-ranked women's doubles pair stated that they had mutually decided to split following their recent defeats against lower-ranked players.
"After three Grand Slam victories and 11 WTA doubles titles together, we have mutually agreed that we would be open to playing with other players for the remainder of the season," Mirza and Hingis said.
"We also look forward to defending our title in the year-end WTA Finals in Singapore in October for which 'Santina' has already qualified," the pair added.
Explaining the rationale behind their decision to part ways, the Indo-Swiss duo said, "Perhaps, because of our great results, we have had very high expectations and unfortunately did not get the results we desired recently.
"We would like to clarify that it was a totally professional decision based purely on our recent results."
Mirza and Hingis had a mixed run this year as they won their last tournament at the Italian Open in May.
Although the pair won the Australian Open this year, they were knocked out of the French Open and Wimbledon in the third and quarterfinal rounds respectively.
They had been in sublime form last year and extended their winning streak to 41 this year before losing at the Qatar Open in February.
Image: Getty Images