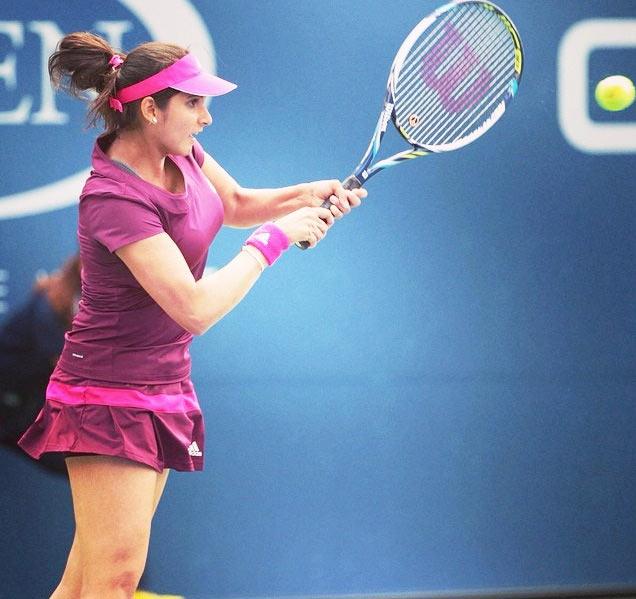 Sania Mirza. Photograph: Facebook
Caught in a dilemma over competing in the Asian Games or the WTA tournaments which clash with the event, Sania Mirza on Sunday, decided to let the All India Tennis Association take a call on her participation in the continental extravaganza in Incheon, Korea.
Sania returned to the country on Sunday after lifting the US Open mixed doubles title on Friday and was quizzed about the Asian Games dilemma after pullouts by Somdev Devvarman and Rohan Bopanna.
"There are few problems obviously with the Asian Games because it is clashing with two other biggest tournaments in Asia -- Beijing and Tokyo. I have lot of points to defend in the same two weeks. So, it is a very difficult situation," Sania told reporters.
"But I leave it to the Federation to try and take this decision. Because it is very difficult for me to take this decision right now," she said.
Sania said choosing to participate in the Games over the circuit would affect her chances of making the WTA season finale.
"So, it is very difficult for me to take this decision right now. Because, I think we have a chance to get into the championship which is in Singapore at the end of the year and if I don't play these two tournaments, the chances of that happening are very small.
"Still, if the country needs me, I will go and play Asian Games. But, this decision, I cannot take myself. I leave it to the Federation to help me out. I have to come and talk to them," she said.
She also thought of India's medal chances in tennis, saying her participation may not be enough given that the big stars have already pulled out.
"With all the big stars pulling out, I don't know how good the chances are left anyways with me playing. But, we will see what we can do," she said.
After clinching the US Open mixed doubles title, Sania now hopes to win a Wimbledon title.
"It is great to win my third Grand Slam and hopefully I will win Wimbledon one day to finish with a career Grand Slam," she said.