'Somewhere along the way a lot of Martina's skills rubbed off on Sania.'
'She couldn't make it big in the singles because she lacked the physicality to handle the pressure.'
As Sania Mirza and Martina Hingis stand on the threshold of a unique milestone, former India players discuss the Hyderabadi's contribution in the all-conquering partnership with Bikash Mohapatra/Rediff.Com.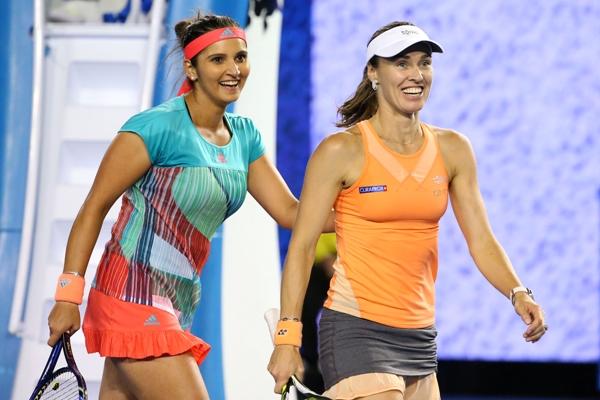 IMAGE: Martina Hingis of Switzerland and India's Sania Mirza react during a match at the Australian Open. Photograph: Scott Barbour/Getty Images
It's an incredible run of results, in every which way.
Sania Mirza and Martina Hingis, dubbed 'SanTina' by media and fans alike, are going through a purple patch. Their title win in St Petersburg last week, coming close on the heels of the triumph at the Australian Open, extended their winning streak to 40 matches.
"What do I say? I am numb. To win 40 matches on the trot is a great achievement," Enrico Piperno, India's former Fed Cup captain, told Rediff.com.
"Even Sania, in her wildest of dreams, wouldn't have thought about it. She has clearly raised the bar.
"For people who have been involved at the various stages of her career, it gives us an amazing feeling," added the eminent coach who nurtured Leander Paes in his formative year.
Former India Davis Cup captain Nandal Bal concurred.
"A lot has been said about it already. Obviously, it's a fantastic run of results.
"But their success doesn't surprise me," said the veteran coach, before proceeding to elaborate on Sania's contribution to the partnership.
"Everyone is aware that Hingis is a fabulous doubles player. So, in the initial phase of the partnership, many were of the opinion that Sania simply got lucky (in finding a perfect partner).
"Somewhere along the way a lot of Martina's skills rubbed off on Sania. To put in another way, in the last few months Sania has picked up a lot from her illustrious partner.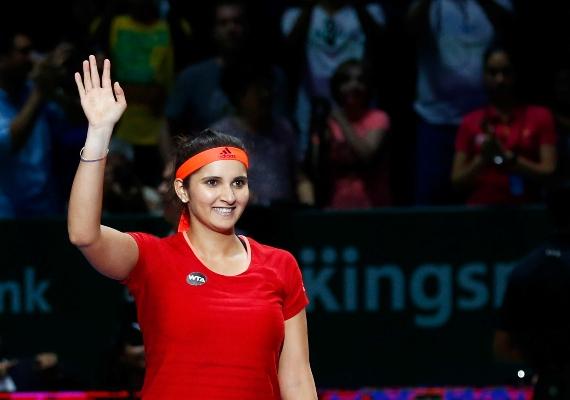 IMAGE: Sania Mirza waves to the crowd after a victory at the WTA Finals in Singapore. Photograph: Julian Finney/Getty Images
"Martina playing well is not surprising, but for Sania to learn so much, so soon, and contribute is fabulous. Now she contributes a lot more than she used to. In fact, I would say she is as strong as Hingis from the back court, if not better. It's a partnership of equals now.
"All said, their coming together and gelling so well is a step ahead, and both of them have done it beautifully."
Having joined forces early last year the crack pair has since won 13 WTA titles – including their last nine tournaments in succession, three straight majors and the World Championships. Sania also attained the top ranking in the bargain.
Piperno said it is a change of priorities that has worked wonderfully well for the Indian heartthrob.
"I think the catalyst was the fact that she was injured far too often. Her body couldn't take the singles workload anymore," explained the former Davis Cupper.
"In fact she was contemplating retirement after the 2014 Commonwealth Games. I remember clearly that she used to talk about it. Then doubles offered a perfect solution. It ensured her workload came down considerably. There was less pressure on her body."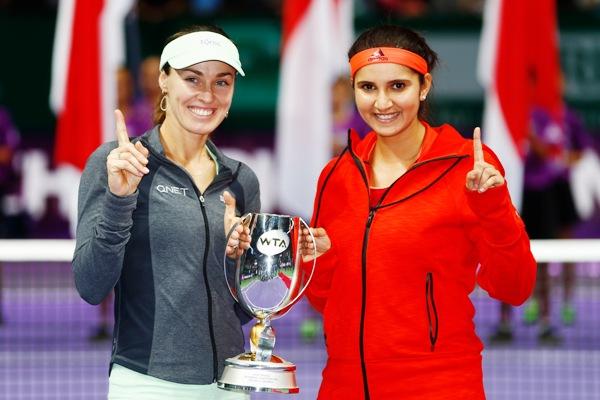 IMAGE: Martina Hingis and Sania Mirza pose with the trophy after their triumph at the WTA Finals in Singapore. Photograph: Julian Finney/Getty Images
Naresh Kumar, another former India Davis Cup captain, had a similar opinion.
"She always had the talent. She couldn't make it big in the singles because she lacked the physicality to handle the pressure."
Elaborating his point, the 88-year-old Lahore-born veteran said: "While she played singles, she was frequently injured. I believe early in her career she needed proper physical guidance, which she obviously didn't get.
"In doubles she has to do half the work, as in she has to cover half the court. Besides, in Hingis she has an outstanding partner.
"That's not to take away anything from her achievements. They are brilliant results, and in no way frivolous. I do believe Sania has acquired a lot of depth in her game."
Having already pocketed four titles this year – in Brisbane, Sydney, Melbourne and now St Petersburg, the top-ranked combination is now eyeing the record for most consecutive victories (44), set in 1990 by the Czech combination of Jana Novotna and Helena Sukova.
And if Piperno's prediction is to taken seriously, the duo will achieve the landmark in a canter.
"They look unbeatable at the moment."