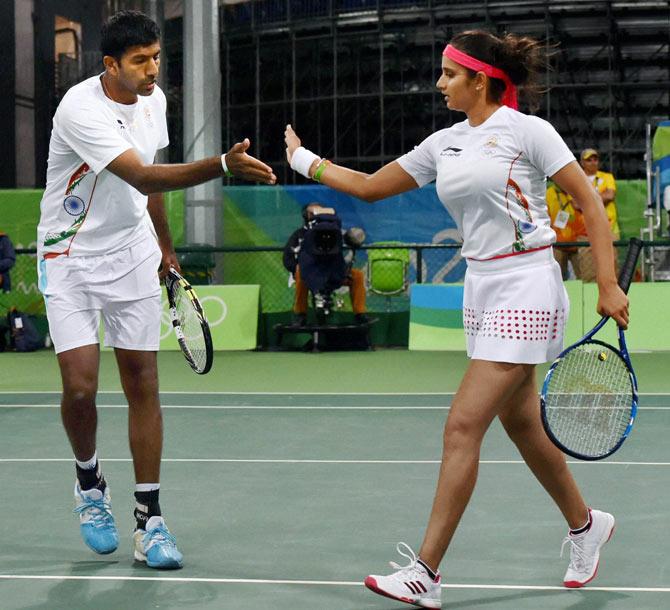 IMAGE: Sania Mirza and Rohan Bopanna are one win away from a bronze at the Rio Olympics. Photograph: PTI
Sania Mirza and Rohan Bopanna subdued Britain's Andy Murray and Heather Watson with remarkable ease to breeze into the mixed doubles semi-finals at the Rio Olympics on Friday.

The fourth seeded Indian pair dominated the quarter-final contest, winning 6-4, 6-4 in just 67 minutes.

One more victory will ensure India a silver medal.
Defeat in the semi-finals would give Sania and Bopanna a chance to fight for the bronze.

India has only one tennis medal in its Olympic history through Leander Paes, who won a singles bronze at 1996 Atlanta Games.

Murray came into the contest after winning his singles quarter-final that lasted more than two hours and was a pale shadow of himself.

The world number two, winner of three Grand Slams and singles defending Olympic champion, appeared conserving his energy for the bigger battles ahead. His heavy legs and stifled movement on the court made the task easier for the Indians.

Watson did not look like a player who won the Wimbledon mixed doubles title this year, struggling badly with her serve and ground strokes in the opening set.

Sania and Bopanna were a better team than the Britons, who never posed a threat to the Indians. Bopanna was solid with his booming serve while Sania played superbly from the back of the court.

Bopanna began with a double fault and Sania's consecutive volley errors meant that the Indians were first to blink.

However, they immediately got the break back as Watson dropped serve at love. A flurry of unforced errors by the Briton set the Indians nicely with three chances and Bopanna found a backhand winner on the first break point.

Sania saved a break-point in the next and held to make it 2-2.
A nervous looking Watson struggled with her serve and was again down 0-40. The Indians seized the advantage.
Murray failed to put across a strong forehand return from Sania, putting the Indians ahead 4-3.
Sania came out serving solid in the next game as India led 5-3.
Bopanna served out the first set without fuss, hitting two aces.
The British players played better as a team in the second but the Indians were up for the task and broke Murray in the fifth for a 3-2 lead.
That lead stayed with the Indians and Bopanna sealed the issue on the third match-point with an overhead smash.