Why did the AITA pair Sania Mirza with Rohan Bopanna for the mixed doubles at the Olympics?
Bikash Mohapatra.Rediff.com finds out.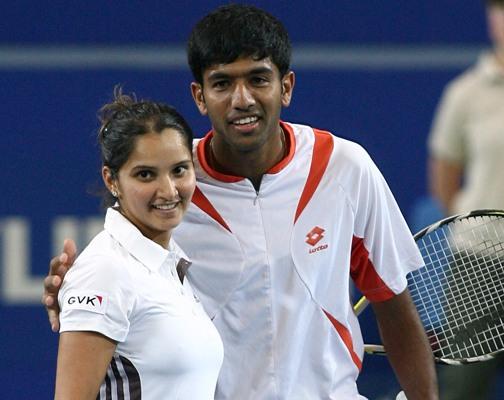 IMAGE: Sania Mirza and Rohan Bopanna. Photograph: Paul Kane/Getty Images
The mixed doubles event is certainly India's best chance to win a tennis medal at the Rio Olympics, and the All India Tennis Association is not willing to take any chances whatsoever about it.
Its decision to pair Sania Mirza and Rohan Bopanna for the event was as pragmatic as it could get, even if it meant taking Leander Paes, one of the most successful players in the mixed doubles category, completely out of the equation.
While rankings vindicate the AITA's decision, the fact remains that Paes -- who recently won the mixed doubles title at the French Open (his 10th major in the category) -- is the better player, overall.
"Getting Sania and Leander together for the mixed doubles was more complicated," explains Bharat Oza, the AITA's secretary-general.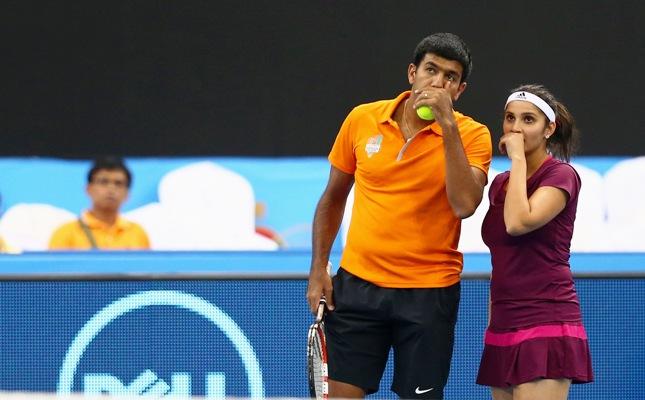 IMAGE: Sania and Bopanna discus tactics. Photograph: Clive Brunskill/Getty Images for IPTL 2014
"They had a combined ranking of 47. What if they didn't get in?" says Oza.
"In that case we would have had the players in Rio, but they wouldn't have a got a chance to play. Why take a chance?"
"Besides, Sania was very clear from the beginning that she wanted Rohan as her partner," he adds.
Oza alludes to Sania's correspondence with the AITA.
'I have already spoken to the AITA and conveyed my decision on the Olympic issue. They have a meeting, let's wait for that,' Sania had said, ahead of the AITA meeting on Saturday, June 11.
"Everybody knew about the content of her letter," says Oza.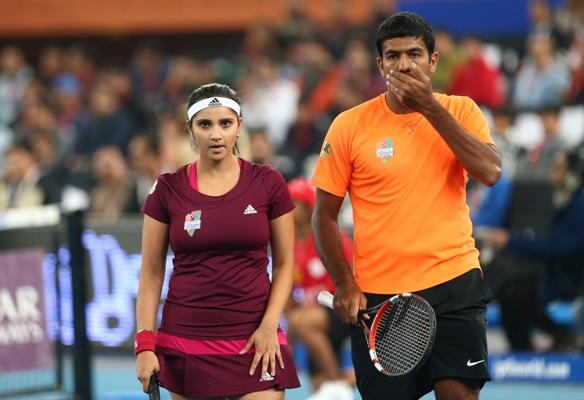 IMAGE: Sania and Bopanna. Photograph: Clive Brunskill/Getty Images for IPTL 2014
The AITA had forced Sania to partner Leander -- instead of her preferred choice (Mahesh Bhupathi) -- at the London Olympics, the former accusing the governing body of using her as 'bait' in the selection row that preceded the event.
Nandan Bal, a member of the selection committee, offers a slightly different perspective.
"It is a fact that Sania is a top-ranked player and has a right to choose her partner. But that applies to women's doubles only," explains the former Davis Cup captain.
"As things stand, in mixed doubles there are only 16 teams, of which 12 get a direct entry," he says, adding, "This made it practically impossible to contemplate having Sania and Leander together, even though it was a topic discussed at the meeting."
"The combined ranking of Sania (1) and Leander (46) was 47. There was no scope whatsoever of getting a direct entry," says Bal.
"On the other hand, Sania (1) and Rohan (10) had a combined ranking of 11," he says. "Plus, both of them were happy to play with each other. It was a practical decision."