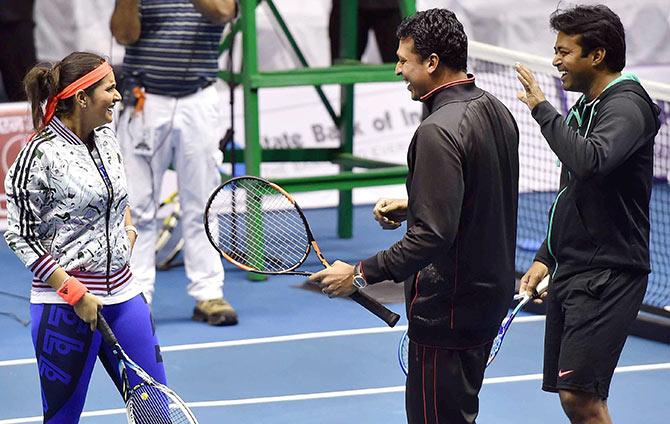 IMAGE: Leander Paes, Mahesh Bhupati and Sania Mirza share a light moment during an exhibition match at the Netaji Indoor Stadium in Kolkata. Photograph: PTI
Legendary Martina Navratilova showed glimpses of her past with her super-fit partner Leander Paes, but it was the duo of Sania Mirza and Mahesh Bhupathi who prevailed 7-5, 7-5 to win the Kolkata leg of the Tennis Masters, a prelude to the IPTL.
Paes and Martina squandered a 0-3 lead and went down in the first set after Bhupathi and Mirza broke back by winning fifth, seventh and 11th games.
In the second set, both teams broke each other as they were locked 2-2.
Paes-Martina took a 4-2 lead before Bhupathi-Mirza bounced back to make it 4-4 by breaking in the seventh game and went on to wrap the issue in 37 minutes at the Netaji Indoor Stadium.
"I think doubles is more fun than singles because here you can talk to somebody in the middle of the match, but if you talk to yourself in singles people will think whether you're mad!
"Hope I keep on improving... I can still improve," Navratilova told the audience as they trail 0-1 in the three-leg promotional tour which will travel to Hyderabad and New Delhi in the next two days for the next two matches.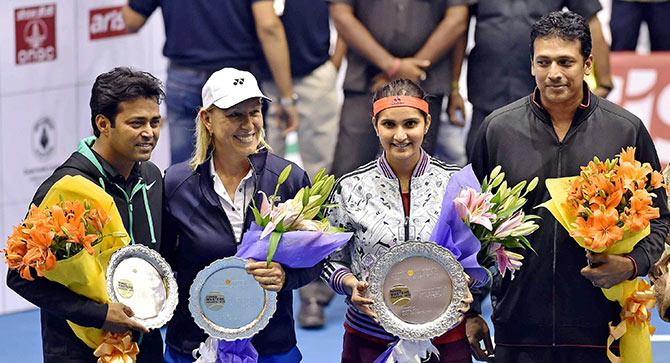 IMAGE: Mahesh Bhupathi, Sania Mirza, Martina Navratilova and Leander Paes with the trophy after the exhibition match at Netaji Indoor Stadium in Kolkata. Photograph: PTI
Paes, who is now based in Mumbai, was emotional to be back in his home town and among his father (Dr Vece Paes), mother (Jennifer), sister and former coaches and friends.
"Today I drove through my school (La Martinere for Boys), my courts (South Club), my old house; it was really an emotional moment. It's very special and it's great to play in front of my people here. Looking forward to the next two days. Tennis is a way of life. A big 'Dhonyabad' to Kolkata."
Playing in front of a thousand-odd crowd who made up for their presence with some loud cheers to both the teams, Paes and Navratilova defied their age producing a spectacular display of shots to race to a 3-0 lead.
"Take a bow, take a bow," said the 42-year Paes to the 59-year-old legendary 18 Grand Slam singles winner, amid chants of 'Martina, Martina' from the stands.
"Thank you to the crowd for coming out in large numbers. I am coming here after nine years. It's great to play in front of you. Kolkata we will be back," Sania said.