The Briton, who was playing fairly before the mid-match trim, slumped to a defeat against Nadal in their Round Robin match in the ATP Tour Finals on Wednesday.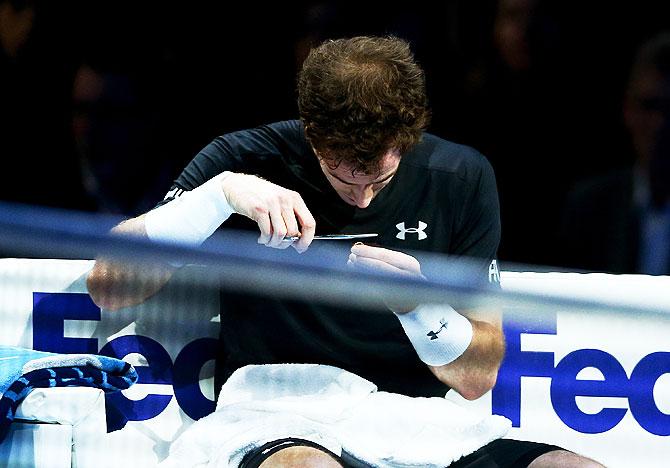 IMAGE: Great Britain's Andy Murray cuts his hair in-between games in his men's singles match against Spain's Rafael Nadal during the ATP World Tour Finals round robin match at the O2 Arena in London on Wednesday. Photograph: Clive Brunskill/Getty Images
Andy Murray was known for his wild mop of hair earlier in his career but the world number two surprised fans at the O2 Arena on Wednesday when he took out a pair of scissors and gave himself a mid-match trim against Rafael Nadal.
- ATP Tour Finals PHOTOS: Impressive Nadal powers past Murray, Wawrinka recovers to down Ferrer
It was early in his 6-4, 6-1 defeat by the Spaniard at the ATP World Tour Finals that the Briton sat down on his courtside chair and began carefully cutting his fringe.
He was playing reasonably well at the time, but following his do-it-yourself haircut he slumped to defeat, leaving his chances of reaching the semi-finals in the balance.
"I had some hair in my eye, and I just wanted to get rid of it. That literally took two seconds," he told reporters, who were obviously curious about his antics."
The world number two's barbering skills were lost on his opponent, who laughed when told of the incident afterwards.
"He had a practice before to try to know that," Nadal said, when told Murray's hair had been causing him a problem.
"Was good. Is a good solution, yeah."