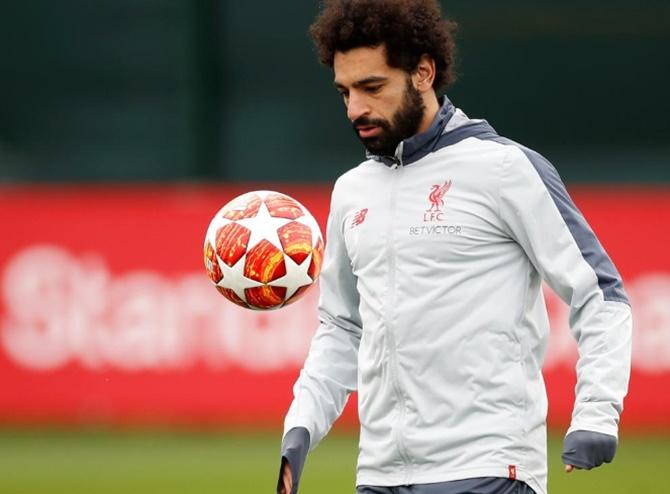 Liverpool's Mohamed Salah is willing to put his Champions League ambitions on the back-burner to help the Merseyside club claim their first English league crown in 29 years, the Egyptian forward has said.
Liverpool are second in the Premier League with 73 points, one point behind defending champions Manchester City with eight matches remaining in the season.
Juergen Klopp's side are also competing for silverware in the Champions League where they visit Bayern Munich on Wednesday for the return leg of their last-16 tie, after the sides played out a 0-0 draw at Anfield last month.
"I'll be honest with you, the most prestigious competition for me is the Champions League," Salah told a news conference at Anfield on Monday.
"But the dream for the city and the club is the league. So, I'm happy to sacrifice my dream for their dream but if we win both that would great and this is what we are trying to do."
Salah, who suffered a shoulder injury in last year's Champions League final defeat by Real Madrid, later said Liverpool were mentally prepared to take advantage if City lose their way in the home stretch of the domestic season.
"The competition is very tough and we have difficult games left as do they," the 26-year-old added.
"All you can do is win your games and hopefully they will fail in one so we can win the title. My mind is sharp and there is pressure but I'm strong mentally and we have to keep going.
"We will see what we can do at the end of the season but mentally I am ready for everything."
After Wednesday's clash at Bayern, Liverpool return to league action with a trip to 19th-placed Fulham on Sunday.
Liverpool need improved away show for Champions League progress: Van Dijk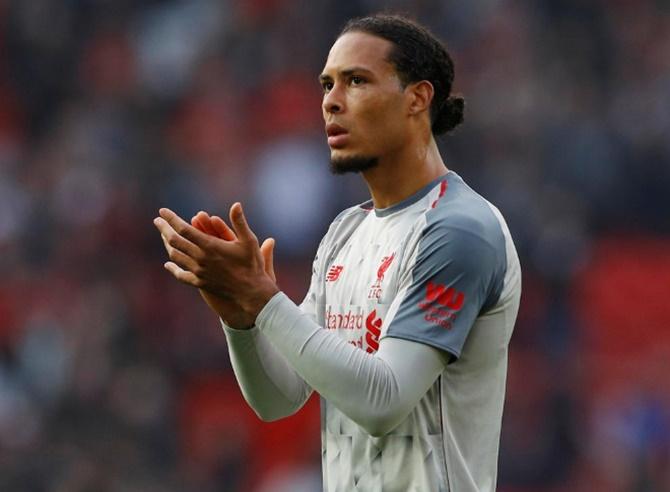 iverpool must be ready for a "big fight" when they visit Bayern Munich in the Champions League on Wednesday and are motivated to improve their recent away record in the competition, centre back Virgil van Dijk has said.
The Merseyside club travel to Germany for the second leg of their last-16 tie after the sides played out a 0-0 draw at Anfield in last month's first leg.
Liverpool, who finished as Champions League runners-up last year, have struggled away from home in Europe this year, losing at Napoli, Red Star Belgrade and Paris St Germain in the group stages.
"The group stage games were not as good as we wanted, but we got through to the knockout phase," Van Dijk told British media. "It's going to be tough and we need to do better than we did in the last away games in the Champions League.
"We want to do everything that is possible to get through."
Bayern were happy to sit back and defend in the first leg, but Van Dijk is anticipating a slightly more open game in the reverse fixture and is confident his team can prosper from UEFA's away goals rule.
"There will be times when we're under pressure because they have a lot of quality," he added. "But we will definitely have our own moments because of the quality we have as well.
"We need to be up for a big fight because they are probably going to come all in, especially in the beginning.
"To keep a clean sheet in the first leg is always good for both teams but we know if we score they need to score two. That's how it is. We want to win the game and go through. Hopefully we can get the job done."
Bayern's Alaba, Coman fit against Liverpool: Kovac
Bayern Munich's David Alaba and Kingsley Coman have been ruled fit for the Champions League last 16 second leg against Liverpool on Wednesday, coach Niko Kovac said.
The pair had been racing to recover from injuries after their goalless first leg draw at Anfield last month.
"Alaba took part in training yesterday, not the whole training," Kovac said. "We will have the final training today and I think he will be starting. He is mentally and physically fit to help the team."
French winger Coman, who had nursed a hamstring injury, has also recovered but it is not yet clear whether he will start.
"Coman is fit for tomorrow. Whether it is good enough for him to start we will have to see, but he is, in any case, an option," Kovac added.
Bayern, who will be without suspended Joshua Kimmich, took over at the top of the Bundesliga from Borussia Dortmund with a 6-0 demolition of VfL Wolfsburg on Saturday for their 12th win in the last 13 league games.
They are in fine form and Kovac said he did not expect another goalless draw against the English side.
"We know they are strong in defence. With Virgil van Dijk coming back Liverpool will be even stronger in defence but we can score goals. We have shown that in the Bundesliga," he said.
"Tomorrow there won't be a 0-0. We want to win it and that is how we will approach the game. You cannot rely twice on a goalless draw to advance."
Bayern may have been scoring lots of goals lately but they have also been wasteful up front, the Croat said, hoping his team will improve their finishing in front of a fiery home crowd.
"What we need to improve is our efficiency up front. I am confident that tomorrow at home with the support of our fans that we will be even more efficient in attack and create more opportunities," Kovac said.