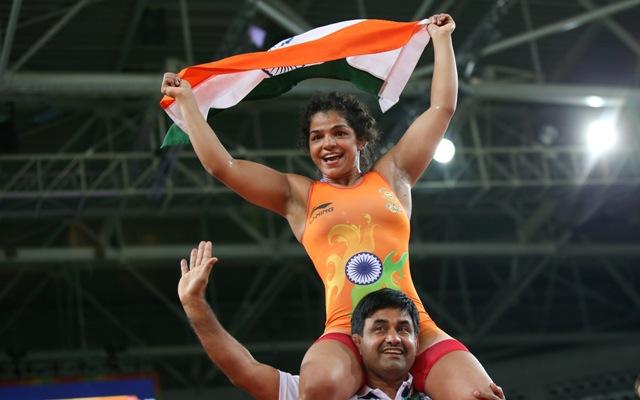 IMAGE: India's Sakshi Malik celebrates with a team member after defeating Aisuluu Tynybekova of Kyrgyzstan in the 58kg freestyle bronze medal play-off at the Rio Olympics on Wednesday. Photograph: Toru Hanai/Reuters.
Wrestler Sakshi Malik ended India's painful wait for a medal at the Rio Olympic Games by clinching the bronze in the 58kg category, pulling off a sensational 8-5 victory over Aisuluu Tynybekova of Kyrgyzstan in the play-off bout.
WATCH Sakshi Malik celebrate her bronze medal HERE!
Sakshi thanked Olympic medalists Sushil Kumar and Yogeshwar Dutt for showing wrestling the way.
"They (Sushil Kumar and Yogeshwar Dutt) are my idols. I would crave to meet them, I would get so excited to have a glimpse of them," she said when asked about her feeling to be in the list of medal winners with Sushil (bronze in 2008 and silver in 2012) and Yogeshwar (bronze in 2012).
"I would crave to train with them. I can't explain the joy when you all will take my name alongside those greats.
"My idol of course is Sushil Kumar who got a medal from Olympics and showed us the way," said Sakshi, who is also a 2014 Commonwealth Games silver medalist.
It was in the wee hours of Thursday, on the auspicious day of Raksha Bandhan, Sakshi showed the woman power as she ended India's excruciating wait for a medal at the Rio Games.
"This is dedicated to everyone who were with me, starting from my parents, my coaches, training partners. It's all because of their support. Have faith on me, women can bring medals," Sakshi said.
"I knew till last that there's a medal in offering, I kept on trying. I was very confident, and this medal is a result of my struggle all these years," she said.
"A big thank you to Indians for giving me such a huge support."
Thanking her coaches Kuldeep Malik and Kuldeep Singh, she said: "I had two and half hours' rest. My coaches kept on telling me that 'you can win a medal, you're stronger'. The earlier bout I lost was because of some small mistakes. I could have won that bout."
"They backed me well and did not ever let me down. They kept my morale high all the time. You can't say what would happen initially. I tried my best," she said.
"Initially you can't say. it's difficult to say which way the bout will go. I tried to attack in the first round but was unsuccessful. But I kept hope on the last three minutes."
In the middle of her campaign at the Carioca Arena 2, Sakshi received a big jolt to see her friend Vinesh Phogat sustain a knee injury and was stretchered off in tears after forfeiting the quarter-final bout to Chinese opponent Yanan Sun in the 48kg women's freestyle.
Shakshi said she was shaken to see that scene but she returned stronger.
"She (Vinesh) is a good friend of mine. I was really upset knowing her injury. It diverted my mind. She carried a big medal hope for us and after she retired hurt. I was under tremendous pressure. It made me stronger," said Sakshi.
Congratulate Sakshi Malik HERE!