'Saina and Sindhu are top contenders, but they will have to beat players who are playing solid badminton at this juncture.'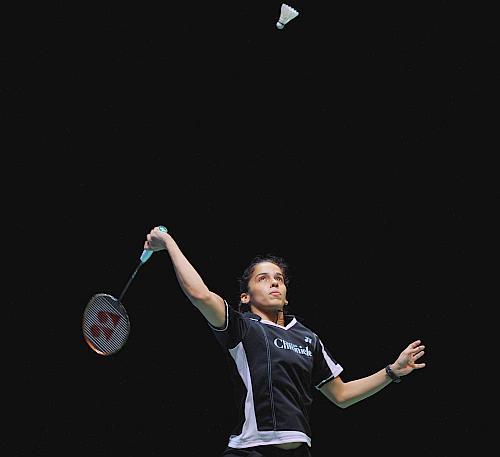 IMAGE: Saina Nehwal In action. Photograph: Michael Regan/Getty Images
Saina Nehwal is one of India's top medal prospects at the 2016 Olympics.
Hobbled by an Achilles tendon injury, Saina has failed to cross the semi-final hurdle in major tournaments (the India Open, the Malaysia Open and the Asian Championship) in recent months as a result of which her ranking has dropped to World No 8.
Vimal Kumar, Saina's coach, asseses her chances in Rio in this exclusive interview with Aruneel Sadadekar/Rediff.com
This is India's biggest Olympic badminton contingent, with seven shuttlers making the cut for Rio. As a former national coach, how do you look at India's chances?
This is our best contingent till now. Badminton was introduced at the 1992 Barcelona Olympics. We had three shuttlers of which I was one.
In London, Saina and Parupalli Kashyap led India's chances. Unfortunately, Kashyap won't be there in Rio, but Kidambi Srikanth is doing really well at the international stage.
According to me India's best chance lies in the women's singles with Saina and P V Sindhu cracking the top 10 rankings.
Saina has been losing in the semi-finals lately. How do you look at it?

Saina is going through a difficult phase in her badminton career. She really struggled with her injury, but I am happy that she has now recovered and playing pain free.
I reckon she will have to improve her endurance and work on the tactical aspects of her game to challenge the best in the business.
She has eight weeks to focus on the Olympics after her tournaments and at that time, we will look to work on these aspects.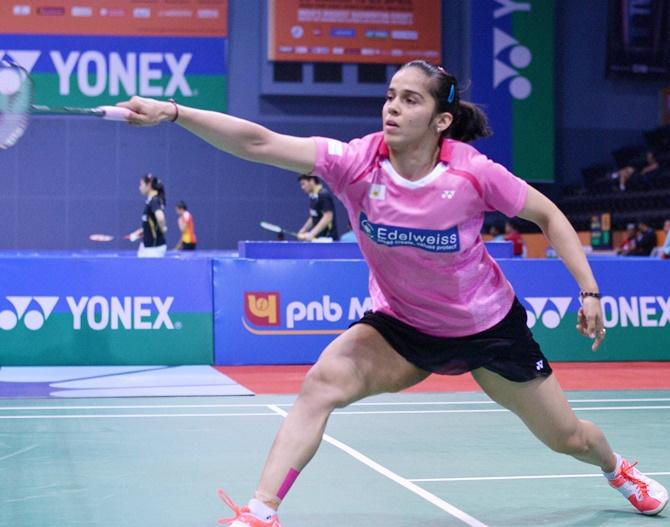 IMAGE: Saina in action against Korea's Sung Ji Hyun during the Yonex-Sunrise India Open in New Delhi. Photograph: PTI Photos
Saina hasn't won a single title this season.
I think the Indonesian Open and the next super series in Australia are crucial for Saina. She has dropped in the rankings. Now the aim is to reach the top 3 ranking and earn an easy draw at the Olympics.
Can you explain this, please?
See, all these players will definitely play at the Olympics, but whom they play against will depend on their ranking at the time when the draw is decided.
If Saina is placed higher in the ranking, she will get lower ranked opponents in the initial rounds.
We spoke to Sindhu recently. She said that every game will be a final for her.
Do you think the same applies to Saina as well?
Definitely! Any of these top 10 players can beat each other on their given day. So, a lot will depend on how they feel physically and mentally on that given day.
Also, it is extremely important to prepare separately for each of these top 10 opponents. Every player has her own strengths and weaknesses.
We will concentrate on this aspect a month ahead of the Olympics.
Will China continue its domination in badminton or can we expect tough competition this time?
The Chinese are very strong technically and will always remain a threat, but here I think only two of their shuttlers can participate in each category despite having several players in the top rankings.
This works in our favour because like I said all these shuttlers have beaten each other in the past.
Also, there are players like Carolina Marin (the World No 1 from Spain) and Ratchanok Intanon (the World No 2 from Thailand), who are in top form at this moment.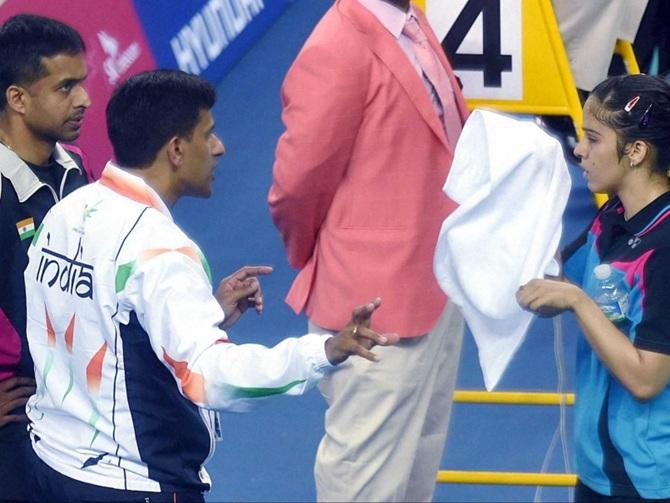 IMAGE: Vimal Kumar and national coach Pullela Gopichand, left, with Saina. Photograph: PTI Photo
What is Saina's training like when she is in India?
Saina has a separate physical trainer and the focus in recent times was to help her recover completely from the injury.
On the badminton court, I make her train with men players for her physical and mental conditioning.
We really do not have enough singles players in the country with whom Saina can spar.
Sindhu mentioned the same problem. Don't you think it will be beneficial for them if they spar against each other?Why are they training in separate cities? (Saina in Bengaluru with Vimal Kumar as her coach and Sindhu in Hyderabad with national coach Pullela Gopichand)
I disagree. Both players have different requirements. Badminton is an individual sport and the player's comfort is very important.
Both Saina and Sindhu will represent the country, but will India get a medal if they don't win?
An individual player and his/her requirements are very important.
They like to train separately and we need to respect that.
How many medals can India expect from badminton in Rio?
That is a very difficult question to answer at this moment. Saina's experience works in her favour.
She and Sindhu are top contenders, but they will have to beat players who are playing solid badminton at this juncture.
Srikanth has beaten top players, but it will not be easy to beat the Chinese stars Chen Long (the World No 1), Lin Dan (the World No 3). The Malaysian World no 2 Lee Chong Wei is also playing really well.
In doubles, Jwala Gutta and Ashwini Ponappa will have it more tough. However, they are experienced as well.