'Taare Zaameen Par' director to make biopic on Saina Nehwal
IMAGE: Ace badminton player Saina Nehwal. Photograph: Pradeep Bandekar
'Taare Zameen Par' director Amole Gupte will be making a biopic on the world's leading badminton player Saina Nehwal, the shooting for which will begin next year.
"Taare Zameen Par director Amole Gupte will make a biopic on my daughter (Saina Nehwal), and the shooting will commence next year," Saina's father Harvir Singh said.
He, however, did not reveal when exactly the shooting will take place. "We don't know when they will commence it because the film-maker said his unit would begin work on the film next year," he said.
Singh said the rights for making the biopic have already been taken. "The filmmaker has taken the rights from a Bengaluru based company to make the biopic on my daughter," he said.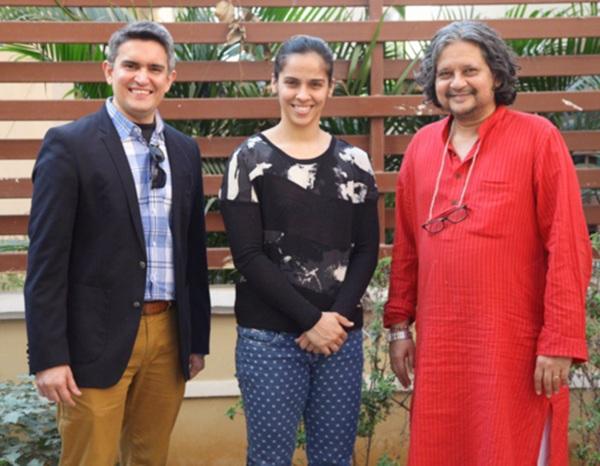 IMAGE: Financier Sujoy Jayaraj, left, Saina Nehwal, centre, and director Amole Gupte. Photograph: Twitter
Gupte and financier Sujoy Jayaraj met Saina and her family in Hyderabad on Wednesday and gained first hand information about her, Singh said.
"Just yesterday, Gupte along with Jayaraj came to my residence in Hyderabad and told us about the film on my daughter. The meeting lasted for half an hour, during which they gained important information about her," Singh said.
Apart from that, the filmmaker suggested Bollywood divas Deepika Padukone and Alia Bhatt's name to play Saina's character in the proposed film.
As soon as Gupte came up with the proposal, Saina was elated and expressed happiness over it. "Saina was very happy and elated and also felt proud that Bollywood is keen on making a biopic on her," Singh said.
However, Saina's father said the family would be very happy if the film highlights badminton rather than focusing on Saina. "We will not mind anything about the film if it highlights the sport more than Saina," he said.
Saina wants the filmmaker to make a film on her that will inspire young minds and inspire them to take up badminton, Singh said.
Gupte's 'Taare Zameen Par' won numerous awards like Filmfare Best Film Award for 2008 and the 2008 National Film Award for Best Film on Family Welfare.
The film also was India's official entry for the 2009 Academy Awards Best Foreign Film, but was not shortlisted.
Gupte also made well-acclaimed films like 'Stanley Ka Dabba' in 2011 and 'Hawa Hawai' in 2014.