'I would rate myself as the hardest working player, but I need to improve a lot technique-wise'
'Definitely, I want to do well and win another medal. But, it's not that easy'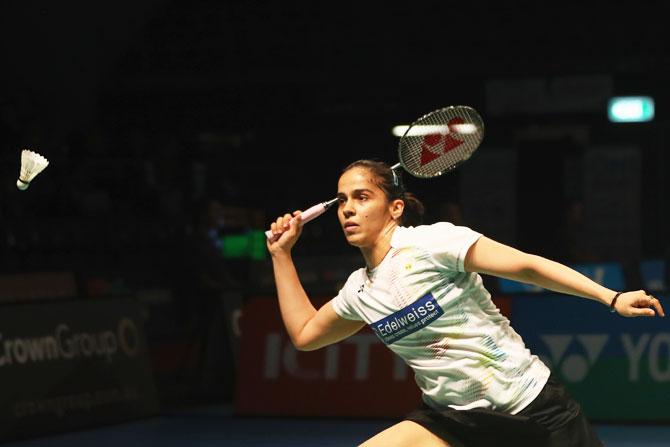 IMAGE: India's Saina Nehwal. Photograph: Mark Kolbe/Getty Images
London Olympics bronze medallist shuttler Saina Nehwal, who recently clinched her second Australian Open title, believes Chinese Taipei's Tai Tzu Ying is going to be her biggest threat at the Rio Olympics.
Taiwan's top female badminton player, Tai Tzu-Ying came into the limelight after beating China's former world No.1 Wang Yihan to win the women's singles title at the 2016 Indonesia Open Super Series Premier.
The Rio-bound shuttler, who defeated world number 12, Sun Yu of China, asserted that she needs to have to good strategy to beat Tai.
"It's not going right as of now for me. Others are still finding a way to beat her. But I still have to analyse and get ready for her because she is going to be a very tough contender in the Olympics," she said.
The Rio-bound shuttler, who defeated Sun Yu to win her second Australian Open title, said she needs to improve her technique in order to come out with an outstanding performance at the Olympics.
"I would rate myself as the hardest working player, but I need to improve a lot technique-wise, I have to keep on working. Overall there is a need to improve more," she said.
"With the hard work, I am putting in, there will be better results coming in the future," she exuded confidence of an Olympic bronze medallist.
Noting that every player would be coming into Olympics with best preparations, she said she would like to give her all at the quadrennial extravaganza.
"Every player who is playing Olympics has a dream of wanting to win a medal. I am one of them. Definitely, I want to do well and win another medal. But, it's not that easy. It's a very tough tournament.
"All the players will be very well prepared. Everyone has a chance to win a medal in such a tournament. This time, my father will be accompanying me to Brazil. I hope to come back with a medal. But, it's not going to be easy. I will try my best," she said.
Saina is among seven Indian shuttlers to compete in the Olympic Games, starting August 5 in Rio de Janeiro.