Ace Indian shuttler Saina Nehwal crossed the first hurdle with a straight-game victory but India overall had a bitter-sweet day at the Asia Badminton Championship at Qingdao, China on Wednesday.
World number five Saina thrashed China's Kaori Imabeppu 21-9, 21-12 in just 33 minutes in the women's singles competition. The Indian will next take on China's Xiao Jia Chen on Thursday.
- Confident Saina chipping at Wall of China 
World number 16 Indian pair of V Diju and Jwala Gutta notched up a 21-16, 21-18 win over the Indonesian combo of Riky Widianto and Puspita Richi Dili in the mixed doubles competition. They will next take on the Korean combo of Sa Rang Kim and Hye In Choi.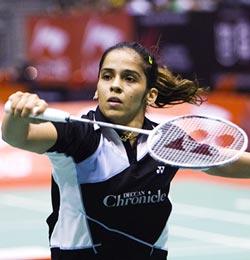 The women's doubles pair of Pradnya Gadre and Prajakta Sawant also reached the second round with a 21-13, 14-21 21-16 victory over Kai Hsin Chiang and Pei-Ling Tsai of Chinese Taipei. They will face off against Duanganong Aroonkesorn and Kunchala Voravichitchaikul of Thailand.
But in the men's singles, Sai Praneeth B was the lone survivor as he notched up a brilliant straight game triumph against 11th seed Wing Ki Wong of Hong Kong. The Indian beat Wong 21-19, 21-16 in 32 minutes.
Another mixed doubles pair of Akshay Dewalkar and Pradnya Gadre notched up a hard-fought 21-16, 13-21, 21-18 triumph over Ki Jung Kim and Kyung Eun Jung of Korea. They will meet Hong Kong's Wai Hong Wong and Hoi Wah Chau next.
However, it was the end of the road for the rest of the Indian shuttlers.
On the threshold of qualifying for the London Olympics, 15th seed Ajay Jayaram put up a fight before going down 22-24, 21-11, 15-21 to Hong Kong's Nan Wei.
World number 20 Indian pair of Jwala Gutta and Ashwini Ponnappa also found the going tough against the Indonesian pair of Vita Marissa and Nadya Melati and became first-round casualty when they lost 21-18, 17-21, 7-21 in a 48-minute battle in the women's doubles competition.
In the men's doubles, top Indian pair of Rupesh Kumar and Sanave Thomas also became first-round casualty, losing 13-21, 14-21 to Ki Jung Kim and Sa Rang Kim of Korea.
Tarun Kona and Arun Vishnu also suffered a 14-21, 11-21 defeat to top seeds Biao Chai and Zhendong Guo of China, while Pranav and Akshay lost 14-21, 18-21 to sixth seed Hiroyuki Endo and Kenichi Hayakawa.
Tarun and Ashwini also failed to put it across Chinese Taipei's Chih Hsun Yang and Tsai Yi Wen and lost 16-21, 12-21 in the mixed doubles.
Pranav Chopra and Prajakta Sawant also lost in the first round, going down 15-21, 16-21 to the Japanese combo of Noriyasu Hirata and Miyuki Maeda.