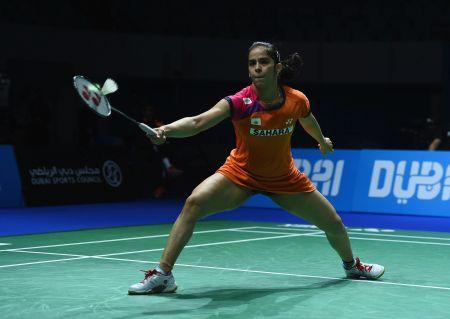 Top Indian shuttlers Saina Nehwal, P V Sindhu, K Srikanth and Parupalli Kashyap reached the second round of Syed Modi International Grand Prix Gold badminton tournament after scoring easy victories in Lucknow.
Olympic bronze medallist, Saina defeated Yin Fun Lim of Malaysia 21-17, 21-12 and two-time World Championship bronze medallist, Sindhu thrashed qualifier Ekta Kalia 21-6, 21-12 at the BBD UP Badminton Academy.
World No. 4 Srikanth, who won the China Super Series Premier last year, beat Shreyansh Jaiswal 21-14, 21-13 while Commonwealth Games champion Kashyap edged past emerging player Subhankar Dey 21-11, 22-20 in men's singles competition.
Among other top names, 14th seed Ajay Jayaram, 16th seed Arvind Bhat, fourth seed H S Prannoy, eighth seed R M V Gurusaidutt, seventh seed Sourabh Varma, sixth seed B Sai Praneeth made it to the second round.
In women's singles, Rituparna Das spanked qualifier Riya Mukherjee 21-7, 21-16 and 2011 National Games champion Arundhati Pantawane brushed aside Slovakia's Jana Ciznarova 21-10, 21-12.
Bahrain International Challenge winner P C Thulasi and Tanvi Lad also had a good day in office as they steamrolled qualifier Rucha Nikam and Russia's Anna Astrakhantseva 21-5, 21-8 and 21-9, 21-1 respectively.
Youngsters Sameer Verma, Harsheel Dani, Neeraj Vashist, Saurav Kapoor, Gaurav Venkat, Abhishek Yelegar, Ankit Chhikara, Vipul Saini, Satinder Malik, Abhimanyu Singh, Talar Laa, Srujan Nandaluri and Siddharath Thakur also crossed the first hurdle in men's singles.
Image: Saina Nehwal
Photograph: Christopher Lee/Getty Images for Falcon