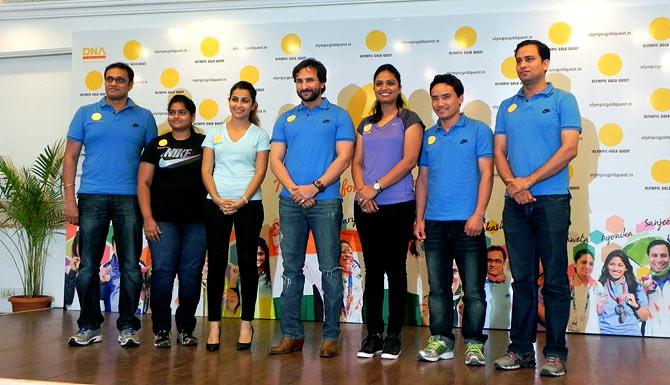 (Left to right): Prakash Nanjappa, Rahi Sarnobat, Heena Sidhu, Saif Ali Khan, Shweta Chaudhary, Jitu Rai and Sanjeev Rajput
Saif Ali Khan promises to raise money for Olympic Gold Quest for the 2016 Rio Olympics and beyond. Harish Kotian reports.
Bollywood superstar Saif Ali Khan signed up as brand ambassador for Olympic Gold Quest on Monday and immediately pledged Rs 20 lakh a year to support the training of athletes for the 2016 Olympics in Rio de Janeiro.
Co-founded by India's sports legends Geet Sethi and Prakash Padukone in 2007, OGQ is instrumental in the country's improved showing at major global events over the last few years.
Four out of the six medals won by Indian athletes at the 2012 London Olympics were supported by it, while six of its athletes won 13 medals at the recently-concluded Asian Games in Incheon.
"So I pledge Rs 20 lakh a year till the Olympics out of my own pocket and I promise to try and raise it. We will also try and organise fund-raising dinners, we will try and get some of the guys in the movies involved, we will do shows, we will do a lot of things and I am sure even the brands I am associated with it would be happy to contribute. So we promise to raise as much money as we can not only for this Olympics but also beyond," declared Saif at a function in Mumbai.
He confessed that he was inspired by OGQ's commitment and passion towards producing Olympic medal winners and the fantastic results it has shown in the last few years.
"I am thrilled to be the brand ambassador of OGQ, as I love all sports. OGQ has been doing wonderful work to help Indian athletes in their quest for Olympic glory. These athletes are the true heroes and we must all do our bit to support them," the national award-winning actor added.
On the occasion, Saif also felicitated some of OGQ's medal winners at the Asian Games, including Jitu Rai (gold medal in the men's 50m pistol, bronze in the 10m Air Pistol team), Heena Sidhu and Rahi Sarnobat (bronze in the 25m pistol women), Prakash Nanjappa (bronze in the 10m Air Pistol men's team event), Shweta Chaudhry (bronze in the 10m Air Pistol women's event), Sanjeev Rajput (bronze in the 10m Air Rifle men's team event).
OGQ Chief Operating Officer Viren Rasquinha said signing up an illustrious name like Saif will create a lot of awareness for organisations, which in turn could bring in more funds.
"We have been looking for someone credible to make OGQ a movement. We are supporting 57 athletes today, but we are looking to support a lot more. In Saif Ali Khan we thought here is someone who has a lot of legacy in sport. He has been someone with a great degree of excellence in his own field, which is acting. He loves sport and we just thought it would be a good marriage and someone who can use his very credible image to help make OGQ into a movement which has really been the dream of all us here."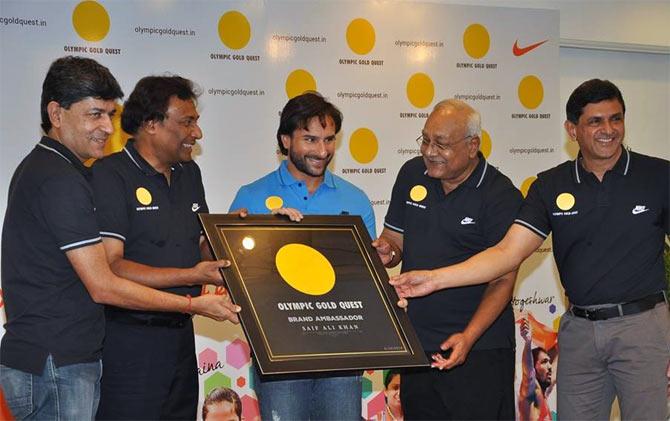 (Left to right): Geet Sethi, Niraj Bajaj, Saif Ali Khan, Shitin Desai, Prakash Padukone
The former India hockey captain added that "it was something that worked both ways".
"He was looking for a right cause to support and we were looking for people to help us spread the movement; it has somehow clicked in that way. We both came midway and met each other, and the goals for both of us were the same," said Rasquinha.
India's latest shooting sensation Jitu Rai, who won gold medals at this year's Commonwealth Games and Asian Games, said signing up with OGQ was the turning point in his career.
"After signing up with Olympic Gold Quest a lot of things have changed for me. They have helped me with everything that I need and make sure I don't face any difficulties. It is because of them that I can only focus on shooting, because they take care of the rest of the things," he said.
As brand ambassador of OGQ, Saif's role will be to help raise funds in the form of donations and contributions that will go towards the training of athletes supported by the organisation. He will also spread awareness about OGQ, its mission, vision and the impact it is creating in Indian Olympic sport.
- To make contributions to Olympic Gold Quest click here