India's star boxer Vijender Singh, who is being investigated in a sensational drug haul case, is on leave from the NIS but his application for an extension is yet to be approved by the Sports Authority of India.
Also Read
-'Cops planted Vijender's car outside drug peddler's flat'
-Sports Ministry asks NADA to test Vijender
-Vijender took heroin 12 times: Punjab Police
The SAI is yet approve the leave of Vijender, whose name emerged after the unearthing of heroin worth Rs 130 Crore from Fatehgarh Sahib at alleged drug peddler Anoop Singh Kahlon's flat in Zirakpur last month.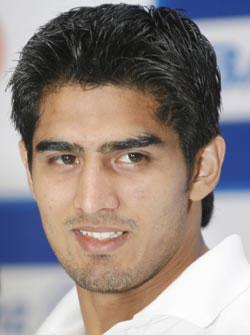 Sources at National Institute of Sports (NIS) disclosed that Vijender has been marked absent from the national camp and his leave has been forwarded to SAI's Delhi office as the most recent extension ended last Thursday.
Vijender has been on leave since the first week of March and has not attended the camp for a day.
The boxer has so far extended his leave three times through NIS authorities, but the authorities have refused to entertain his fourth application for leave which landed here on Saturday.
Vijender had requested for a leave of two more weeks from NIS authorities, but they have forwarded the application to SAI Delhi, sources said.
Meanwhile, the president of The Indian Amateur Boxing Federation (IABF), Abhishek Matoria on Wednesday said no decision has been taken to suspend Vijender from national camp.
Talking to PTI over phone Matoria said the Olympic and World Championships bronze-medallist should provide the samples as and when required by NADA.
Matoria, however, hoped that his leave would be approved by SAI.
Asked about the Punjab police's move to take blood and hair samples of Vijender Singh, Matoria said since the Punjab police did not have any laboratory to test the samples, only NADA, which is an accredited agency, can test the samples.