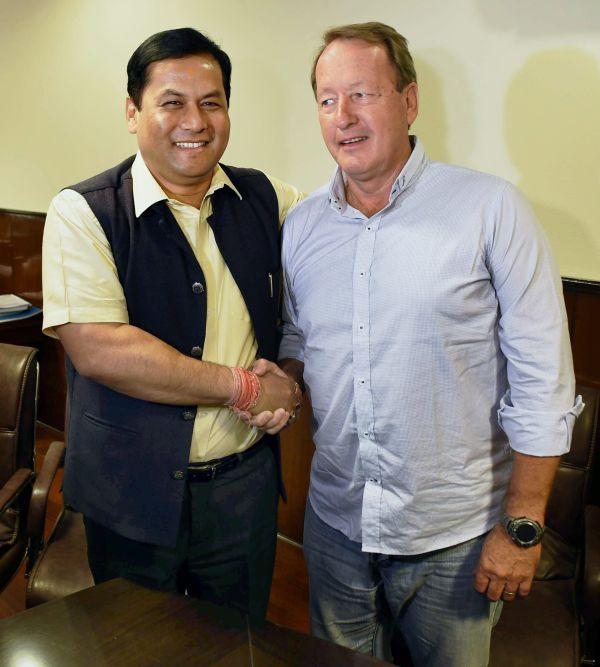 Sports Minister Sarbananda Sonowal with Terry Walsh. Photograph: PTI
The six-member committee, constituted by the Sports Authority of India to study the proposals put forward by Terry Walsh to continue as coach of India's men's hockey team, met Sports Minister Sarbananda Sonowal on Tuesday.
At the end of the meeting, SAI executive director (Teams) Sudhir Setia released the following statement:
"Mr Terry Walsh had a meeting with the honourable sports minister today along with the committee at 14:30 hours. The minister applauded Mr Terry Walsh's recent performance and believed that Mr Walsh is the right man to take Indian hockey forward," read a statement from SAI executive director (Teams) Sudhir Setia.
"The committee comprising former Indian hockey players Ajit Pal Singh, Ashok Kumar, Zafar Iqbal, High Performance Director Rolant Oltmans, SAI's Executive Director (Teams) Sudhir Setia and Hockey India CEO Elena Norman decided to meet the Sports Minister after two days of meeting.
"The minister patiently listened to Mr Walsh's proposals and have agreed to all of them in principles and have asked the committee to find more details. However, Mr. Walsh stated that he needs few days off to go back to Australia. He will then have a re look at all the proposals offered in a positive manner towards renewal of his contract." the statement added.
In a major setback for Indian hockey, Walsh officially quit after his contractual talks with Hockey India and SAI broke down.
The Australian, who replaced countryman Michael Nobbs, told newspersons: "I have been really excited by the SAI and government's desire to review and possibly implement small changes to enhance hockey in India.
"Their support in this process has been extremely positive and shows a clear desire to take hockey forward in this country. Change is never easy but without it progress cannot be made.
"I have become strongly attached to the performance of the players and support staff. With this team there is huge potential and a growing level of performance. I thank them sincerely for their efforts, their trust and most of all their friendship.
"But as of last evening I closed my role with the national program. But have just discussed a new proposal and I hope to receive that in the next 24 to 48 hours."