- 'I am very happy with Sahara Group as partners. There is no issue at all. I feel very sorry for Subrata Roy but this unfortunate situation is not affecting the team in anyway.'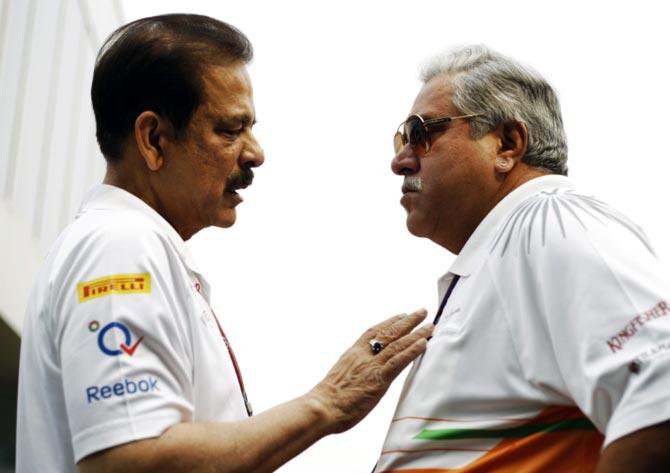 IMAGE: Force India boss Vijay Mallya (right) with Subrata Roy. Photograph: Sahara Force India
Force India boss Vijay Mallya says his partnership with the Formula 1 team's co-owner Subrata Roy stands strong despite the Sahara Group chief being in jail since March 2014.

While Mallya is facing financial troubles of his own, Roy has been behind bars with Sahara Group unable to raise the required cash to get its chief out on bail.

Mallya, speaking ahead of the Mexican Grand Prix this weekend, said the "unfortunate" situation is not affecting the team.

"I am very happy with Sahara Group as partners. There is no issue at all. I feel very sorry for Subrata Roy but this unfortunate situation is not affecting the team in anyway. Our partnership stands strong," Team Principal Mallya said.

In 2011, Sahara pumped US$ 100 million into Force India for a 42.5 stake alongside team founder Mallya. The Moll family from the Netherlands holds the remaining 15 percent stake.

It will be fair to say that the team has continued to punch above its weight despite the issues its owners are facing off the track. Force India have managed to be consistently among points ever since introducing their B-spec car in Silverstone with Sergio Perez delivering the team's third ever podium at Sochi being the highlight so far.

"It is something we are very proud of (the team's performance graph since 2008). We have got three podiums now with the last one coming at Sochi. We are hoping for a similar result in Mexico to further strengthen our fifth place in the team standings," said Mallya of his team, which is on its way to finish fifth for the first time.

The midfield outfit has constantly criticised the income distribution model in F1 with five teams - Ferrari, Mercedes, Red Bull, McLaren and Williams - taking a chunk out of the teams' share. It recently raised eyebrows by complaining to the European Union regarding the sport's governance and its existing income distribution model.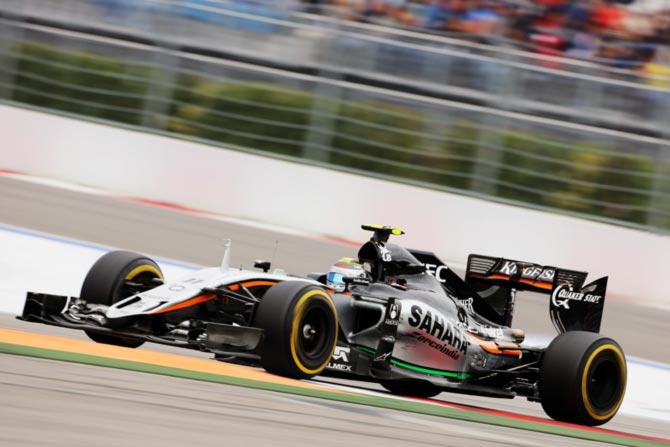 Aware of the repercussions, Mallya said it is tough to predict the outcome of the case.

"I mean nobody can predict the outcome of a European Union complaint. We have filed a complaint because we believed the distribution of income in Formula 1 is not fair, it is disproportionate. Now it is up to the commission to take whatever action they want to take.

"Five teams cannot take away the bulk of the income. Distribution has to be fair. We are carrying on despite challenges. We would not be here if it did not make financial sense. All we are saying is that it has to make better financial sense."

Talking about the shelved Indian Grand Prix, Mallya said he is not very hopeful of the race returning in the near future. The Grand Prix was dropped in 2013 after three successful editions.

"It has been very sad (India not being on F1 calendar anymore). At every Grand Prix, the international media asks me about the race. I feel sorry that there is no Indian Grand Prix. Unfortunately, there does not seem to be any positive development that will lead to me believe that there will be a race in India.

"It is purely a matter between race promoters Jaypee and Bernie (Ecclestone) and I hope they sort out it. I keep reminding Bernie that India is a huge market and it cannot be ignored. If we are going to go to Baku next year, surely we should be in India. I have told him that for sponsors, teams, future of the sport, India is such a vast country which cannot be ignored," said Mallya.

On the constant criticism F1 is facing, he said: "Formula 1 is the pinnacle of technology and it should always remain like that. There was a lot of comment on the change from the classic V8s (engines) to V6 hybrid we have now. Now that was a major technological leap forward but what it also did was increase cost drastically. If we need to complain, we should complaint about the cost, not the technology.

"If you speak to Bernie, he will violently disagree that fans are running away. F1 still is a global sport, it is an exciting sport that is televised all over the world. It still is extremely popular."