The Sahara India Group on Wednesday renewed its ties with Indian hockey by signing a five-year deal to sponsor the national men's and women's teams, besides announcing a sponsorship amount that is 170 per cent higher than the sum in the previous contract.
The group, which had earlier come forward to support the national sport in 2003, has assured whole-hearted support for the development of hockey.
- Sahara may rejoin IPL, but won't sponsor Team India
"It is our national game and we are proud to be associated with this game and are elated to continue our patronage and support for the game. We will achieve greater laurels and success in the sport of hockey in the coming years and Sahara India Pariwar is committed to the development of sport at all levels," said Sahara chief, Subrata Roy.
Besides the seniors, the group will also sponsor the junior teams.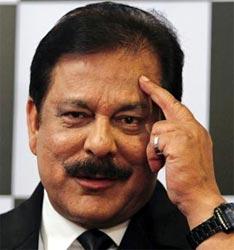 The sponsorship is a part of Sahara's program to promote sports at the ground level.
In addition to this, Sahara is also involved with Indian boxing, wrestling, archery, shooting, track and field and tennis, supporting a total of 95 sportsmen.
Speaking on the occasion, Hockey India's general secretary, Narendra Batra, said, "I take this opportunity to thank Sahara India Pariwar, specially Mr. Subrata Roy Sahara who is the greatest patron of sports, for coming forward and supporting the sport of Hockey. I am sure this association would encourage all the players to perform even better in the forthcoming International tournaments."
Sahara also joined hands with Federation Internationale De Hockey (FIH) in 2004, the World's apex Body for the sport, and became the fourth global partner of the Federation for a period of three years.
Sahara's association with hockey comes close on the heels of its decision to pull out of its sponsorship of the Indian cricket team and ownership of the Pune Warriors franchise in the Indian Premier League.