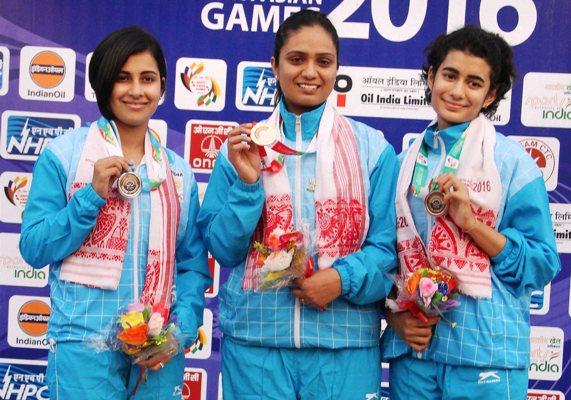 IMAGE: Gold medal winner Sweta Singh (center), silver medalist Heena Sidhu (left) and bronze medal winner Yashaswini Singh Deswal of India at the presentation ceremony of the 10 metre air pistol event at the South Asian Games in Guwahati. Photograph: PTI
Indian shooters made yet another clean sweep on the final day to sign off with a staggering 25 out of 26 gold medals on offer in the 12th South Asian Games, in Guwahati, on Monday.
Rio Olympics bound Gurpreet Singh shot down the gold in men's individual 25m rapid fire pistol with a total of 28 hits on target, while Shweta Singh grabbed another yellow metal in women's individual 10m air pistol event with a total score of 194.4 even though she was shooting with her spare gun at the Kahilipara Shooting Range.
Shweta said her gun got problems in the trigger and she had to shoot with her spare gun.
Another Olympics quota holder Heena Sidhu had to be content with the silver in the women's 10m air pistol event with a total score of 192.5, while 18-year-old Chandigarh shooter Yashaswini Singh Deswal took the bronze.
In the women's 10m air pistol finals, there was tough competition among the three Indians, exchanging leads among three of them.
But towards the end, Shweta had established good lead over her two Indian rivals after young Deswal had a horrendous series of two shots of 8.3 and 7,7 which cost her dear.
Sidhu was not at her best in the finals and she had just five shots of 10 plus scores out of 20 attempts, besides having poor shots of 8.8 each.
For Shweta, this was the worst ever performance despite winning the gold as she had to shoot with a spare gun.
"I won gold and in that sense I am happy. But this is my worst performance and I have been having problems with my gun all through these Games. My gun had problem in the trigger and I shot today with my spare gun. I will change the brand of my equipment," she said.
Asked about her future plans, Shweta said, "I could not qualify for the Olympics. For me, Rio Olympics dream is over. I will have to work harder to qualify for the next (2020) Olympics from next year onwards.
"I will start everything after changing my gun," she added.
India also took a gold each in both the team events to sweep aide any competition from other countries in the discipline.
India gave away just one gold -- to Bangladesh -- in the discipline. The home shooters ended the competition with 25 gold, 10 silver and 10 bronze. Bangladesh are at a distant second with one gold, three silver and three bronze.
Gurpreet made up for his disappointing sixth-place finish in the 10m air pistol event on Saturday by winning the gold in 25m rapid fire pistol event today.
Bashir Ghulam Mustafa of Pakistan took the silver while another Indian Vijay Kumar, who had won a silver in this event in 2012 London Olympics, bagged the bronze.