Qualifier Sergiy Stakhovsky sent Marat Safin to the brink of retirement when he beat the former World No 1 6-4, 4-6, 6-4 in the St Petersburg Open semi-finals on Saturday.
Safin, playing in his penultimate tournament before retiring, had a break point for a 5-4 lead in the final set but the 93rd-ranked Ukrainian was able to hold before breaking the Russian to seal a place in his second final.
"I didn't serve well for most of the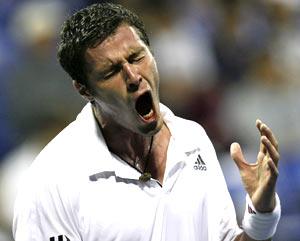 match and had to take risks to win a point," Safin, who will end his tennis career at next month's Paris Masters, told a news conference.
"I don't have enough speed at this stage of my career to fight young guys like Stakhovsky," added the 29-year-old Muscovite before lashing out at journalists. "You guys keep writing a lot of crap about me and I'm forced to defend myself."
Stakhovsky will face Horacio Zeballos in Sunday's final after the eighth-seeded Argentine prevailed over unseeded Russian Igor Kunitsyn 7-6, 6-3 in the other semi-final.
"This is definitely the biggest win of my career as until now I've never beaten a two-time grand slam champion," said Stakhovsky, whose only title came last year in Zagreb.
"He was my idol when I was growing up so I couldn't even imagine beating him just a few years ago," added the 23-year-old Kiev native, who lost to Safin in the first round of last year's St Petersburg Open in their only previous meeting.
Stakhovsky said he was hoping to play Zeballos in the final.
"He has never played in a final so obviously he should be nervous tomorrow. Besides I don't want to face Kunitsyn because playing a Russian in Russia is never easy," said the Ukrainian.