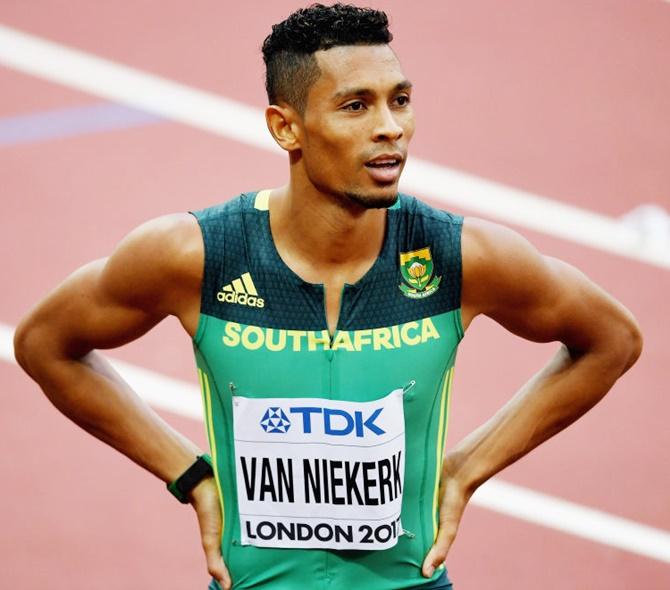 South Africa's Olympic 400 metres champion Wayde van Niekerk tested positive for COVID-19 in Italy last week, according to the Gazzetta dello Sport newspaper.
Van Niekerk, who romped to Olympic gold four years ago in a world record time of 43.03 seconds, was set to participate in a meet in Trieste - his first competition outside of South Africa since 2017 following a serious knee injury.
"I don't know how it's possible. Wayde has been training for the whole week and never had any symptom, not even after testing positive. He hasn't had a fever," the 28-year-old's manager Peet Van Zyl told the publication.
Van Niekerk, who tore his right anterior cruciate ligament while playing a charity touch rugby game in 2017 to leave his career in doubt, began his comeback in February this year.
Gomathi Marimuthu approaches CAS, appeals against doping ban
Indian athlete Gomathi Marimuthu has challenged the four-year ban, handed to her for failing a dope test, at the Court of Arbitration for Sport (CAS).
Gomathi was stripped of the gold medal she won at the 2019 Doha Asian championship in the 800m event and banned for four years by the Athletics Integrity Unit (AIU) after her 腺' sample also returned positive for anabolic steroid nandrolone.
"An appeal has been filed with CAS as per procedures. We have appealed against the four-year ban and the fine of 1,000 British Pounds imposed on me," she told PTI.
The appeal has to be filed 30 days from the date of the receipt of the decision.
The Tamil Nadu athlete had tested positive for the anabolic steroid nandrolone at the 2019 Asian track championships in Qatar in April.
All Gomathi's competition results between March 18 and May 17, 2019 stand annulled. Her medals, titles, ranking points and prize and appearance money are to be forfeited as well.
The 31-year old Gomathi ban stands till May 2023.
Gomathi, who was provisionally suspended in May last year when her 'A' sample returned positive, was also ordered to pay the AIU, within 28 days, 1,000 British pounds towards legal and other expenses.