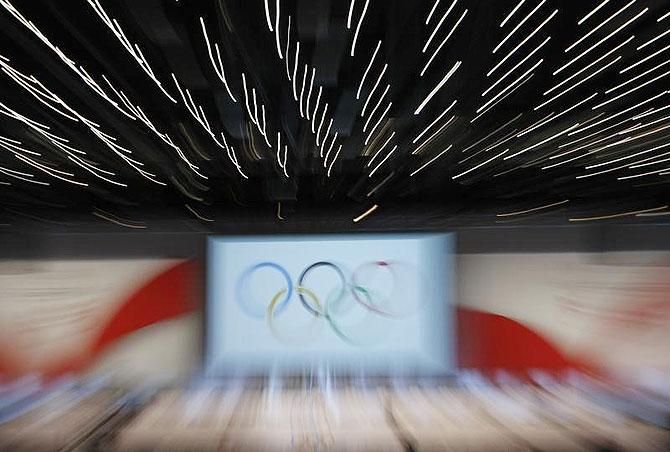 IMAGE: A general view show the stage where five cities are applying for their candidature for the 2016 Olympic Games to International Olympic Committee (IOC) members during the 121st IOC session in Copenhagen on October 2, 2009. Photograph: Denis Balibouse/Reuters
Barred from international competition, Russia is training its athletes at a series of special domestic tournaments and banking on hopes a doping ban will be lifted in time for this year's Rio Olympics.
While rivals will pit their strength at the world indoor games in the United States in March, Russian athletes have had to make do with a winter season supplemented with five additional Grand Prix events across a country where sporting success is seen as integral to national pride.
Some athletes are employing an approach favoured by sports psychologists of compartmentalised thinking: focusing on their training and performance, while leaving outside issues such as the uncertainty about their place at the Olympics, to others.
"I didn't participate in these scandals and don't even understand it," hurdler Konstantin Shabanov told Reuters at the Russian Athletics Championship in Moscow.
"In the first case, our athletics federation should be thinking about this ban .., not sportsmen. I have to think about running, training and results."
Russia, second behind the United States in the track and field medal table at the London 2012 Olympics, was suspended from world athletics last year after a doping investigation exposed widespread cheating and corruption. The World Anti-Doping Agency report cited graft among international officials and suggested the scandal could widen.
Now Russia faces a race against time to meet anti-doping standards dictated by the International Association of Athletics Federations (IAAF) before the Rio Games in August, an ambition some say is unrealistic.
As things stand, Russian athletes will be barred from competing, the first time Russia has missed the Olympics since the Soviet Union boycotted the Los Angeles Games in 1984.
Officials recognise there is little substitute for high-level competition in the approach to the Olympics and some are worried Russian athletes will lose out in Rio after spending months sequestered away from their their international rivals.
"Of course there is a limitation (on training)," said Russian Athletics Federation (ARAF) General Secretary Mikhail Butov.
"It would be better to compete together with all strong athletes worldwide."
But Russia has repeatedly said it will prove itself compliant with the IAAF requirements in time for the Games.
At stake is its reputation as a dominant force in world athletics and President Vladimir Putin's image of Russia as a global power, at a time when the Kremlin is locked in geopolitical tussles with the West over Ukraine and Syria.
Already this year, the disgraced ARAF has elected a new president to oversee sweeping reforms and the Russian Anti-Doping Agency (RUSADA) has resumed some of its responsibilities after top managers stepped down last year.
Some US and European officials, however, have said Russia has too many problems to overcome before the Games begin on Aug. 5. "They must have a cultural change," said European Athletics chief Svein Arne Hansen in December. "I cannot really see them competing in Rio."
New ARAF head Dmitry Shlyakhtin said June would be the "point of no return" for Russians looking to Brazil.
In Moscow last week, 26-year-old Nina Morozova won the women's 60-metre hurdles in 8.09 seconds, a time which made her the Russian national champion and one she hopes will be good enough to claim a podium position in Rio.
"We are only hoping for the best, otherwise there is no point in training," she told Reuters after the race.
"These troubles will more than likely be a good thing. We are gearing up for revenge against all those who smeared us."
Russia has a proud history at the Olympics and hosted the Winter Games in Sochi in 2014, an event portrayed as a symbol of the country's resurgent global standing. A sporting powerhouse, it has produced some of the world's best athletes.
Soviet Gymnasts Larisa Latynina and Nikolai Andrianov hold second and third places respectively on the list of all-time Olympic medal winners.
Pole-vaulter Yelena Isinbayeva is the world record holder as well as a double Olympic gold medallist and triple world champion.
Russia's head athletics coach and 2004 Olympic gold medallist in the 800 metres, Yury Borzakovsky, said his athletes were well aware of the challenge they faced.
"Our guys have to adjust to this difficult situation and train effectively," he said.
ARAF's Butov said he was optimistic Russia would take part in the Rio Games. The corruption scandal, meanwhile, should not be allowed to interfere.
"Let this be the concern of us officials. As for the athletes, their main work is to train and to compete," he said. "These are some difficult and tough times for all of us."