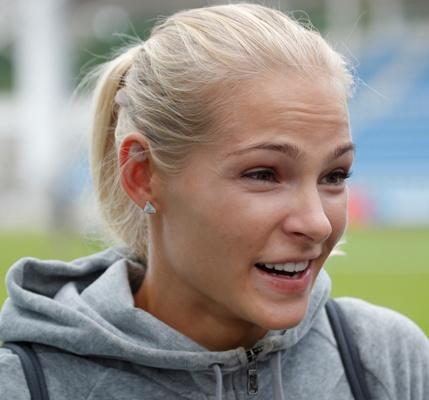 IMAGE: Darya Klishina of Russia talks to the media. Photograph: Sergei Karpukhin/Reuters.
Russian long jumper Darya Klishina has been cleared to compete internationally as a neutral athlete after a successful appeal against a blanket ban on her country's track and field athletes for systematic doping.
Athletics' world governing body, the International Association of Athletics Federations (IAAF), banned Russia's track and field athletes last year after a World Anti-Doping Agency report uncovered systematic state-sponsored doping within the country.
The ban was extended last month, which ruled the country's athletes out of next month's Rio Olympics though the All-Russian Athletics Federation has appealed the decision to the Court of Arbitration for Sport.
Individual Russian athletes, however, could apply to the IAAF for exemptions to compete as "neutral athlete" if they could prove they were not involved in the system and were subjected to drug tests outside the country.
"The IAAF Doping Review Board has agreed that Russian long jump athlete Darya Klishina meets the exceptional eligibility criteria to compete in international competition as a neutral athlete," the IAAF said on their website.
"Darya Klishina's participation as a neutral athlete in international competition is still subject to acceptance by the organiser of the competition in question, in accordance with the rules of that competition."
Klishina's was one of 136 appeals to the IAAF under the neutral athlete provisions and most of the applications had been reviewed, the governing body added. It did not give details on the outcome of those appeals.
The 25-year-old Klishina's best performance at a senior global event was fourth at the world indoor championships in Istanbul in 2012. She has finished seventh twice at the world outdoor championships, in 2013 in Moscow and in 2014 in Sopot.
She was 10th at last year's world championships in Beijing.