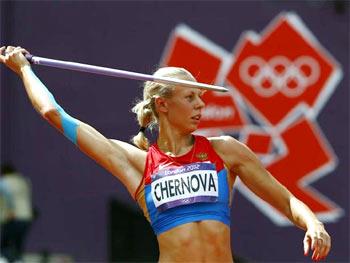 Russian heptathlete Tatyana Chernova will not be able to defend her world title next month in Moscow because of injury.

Chernova was the highest profile name missing on Tuesday from the team announced by the host nation for the world championships, along with world champion race walkers Valeriy Borchin and Sergey Bakulin.

Chernova, 25, suffered a knee ligament injury running the 100 metres hurdles during the Russian championships last week. Her rival, British Olympic champion Jessica Ennis-Hill, is also in danger of missing the championships because of injury.

"Of course it's a shame to miss the championships when they're being held at home," twice Olympic bronze medallist Chernova was quoted as saying by Russian media.

Russia's team includes 12 Olympic champions and six world champions from Daegu - 3000m steeplechaser Yuliya Zaripova, 20-km race walker Olga Kaniskina, javelin thrower Mariya Abakumova, high jumper Anna Chicherova, hammer thrower Tatyana Lysenko and 800m runner Mariya Savinova.

Other Russian medal hopes include long jumpers Aleksandr Menkov and Elena Sokolova, Olympic 400 metre hurdles champion Natalya Antyukh and pole vault world record holder Yelena Isinbayeva.

Also in the team are Olympic 20km race walk champion and world record-holder Elena Lashmanova, and Olympic high jump gold medallist Ivan Ukhov.

Russia has set a target of winning six gold medals at the championships, which start on August 10, and a total of 16 medals. It will be the first major outdoor athletics event hosted by Moscow since the 1980 Olympics.
Photograph: Kai Pfaffenbach/Reuters