Russian bobsledder Sergeeva admits anti-doping violation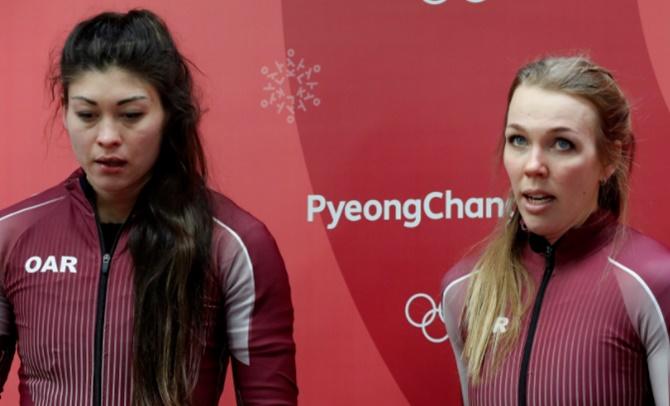 IMAGE: Olympic athletes from Russia Nadezhda Sergeeva and Anastasia Kocherzhova react. Photograph: Arnd Wiegmann/Reuters
Russian bobsledder Nadezhda Sergeeva has admitted an anti-doping violation and has been disqualified from the Winter Olympics, the Court of Arbitration for Sport (CAS) said on Saturday.
Sergeeva, who finished 12th in the women's bobsleigh competition, had tested positive in an out-of-competition test for the banned product trimetazidine and had her result from the race removed, CAS said in a statement.
The athlete had accepted a provisional suspension beyond the period of the Games, CAS said.
Russians fear doping has sunk their bid to fly flag at Winter Olympic Games
A despondent mood swept through Russian athletes at the Pyeongchang Winter Games on Saturday, their hopes of being able to fly the Russian flag at the closing ceremony deflated by a second positive doping test.
"They were due to look at how we behaved here and decide, but as we've got two doping cases I don't think they will allow us to be at the closing with the flag," alpine skier Anastasia Silanteva told Reuters.
Russians are competing as neutral athletes at the Games due to allegations they ran a systematic drug-cheating programme at the 2014 Sochi Games. They have been unable to wear national uniforms or have the Russian anthem played at medal ceremonies.
But the International Olympic Committee (IOC) held out the prospect of lifting its suspension of their Olympic status and allowing them to carry the Russian flag at Sunday's closing ceremony, on condition they behaved well at Pyeongchang.
Silanteva said the entire Russian team were upset at the prospect of leaving the Games without flying the flag or wearing the Russian uniform. It would have shown "we are a strong country and we will achieve everything we want", she added.
This week, it emerged that a Russian medal-winning curler and bobsledder had failed tests for performance-enhancing drugs.
Curler Alexander Krushelnitsky, who won bronze in the mixed doubles event, agreed to return his medal along with his wife who is his curling partner.
Bobsledder Nadezhda Sergeeva tested positive for heart drug trimetazidine. The Court of Arbitration for Sport said on Saturday that Sergeeva had admitted to an anti-doping violation.
The IOC executive was meeting on Saturday to consider a report on the Russians' conduct at the Games, before making a decision on whether to lift the suspension of their Olympic status and allow them to fly their flag at the closing ceremony.
If the suspension is not lifted, they will march behind the Olympic flag and in neutral uniforms.
Before Sergeeva's case, sources told Reuters the IOC was edging closer to restoring Russia's Olympic status. It has not commented on how the second case could affect Russia's chances.
Some athletes have seized on the second violation as evidence that the IOC should have taken a stronger stand before the Games and banned the Russians from competition.
American bobsledder Nick Cunningham said Russia had forfeited the right to parade with their flag on Sunday.
"They should walk out of here the same way they walked in, and have the whole Olympics as the punishment," he said.
"It's a punishment and that's what it is. You don't get to have a privilege like that, to walk under your flag. Maybe in four years you can have that honour."
Other Olympic delegations said they did not want to see the Russian tricolour on Sunday.
"Especially in light of the second doping offence, our position is that the flag should not come into the closing ceremony with the Russian team," Tricia Smith, president of the Canadian Olympic Committee, told a news conference.
The IOC defended it decision to allow a carefully screened group of Russians to compete at Pyeongchang as neutrals.
"We say we are always extremely disappointed for whichever anti-doping rule violation," IOC spokesman Mark Adams said. "So far there have been very few cases. We did the right thing."
Two of four doping cases at the Games have involved Russian athletes, who were vetted by the IOC to compete.
At the bobsleigh track on Saturday, Russian competitors were tight-lipped. The four-man team lead by pilot Maxim Andrianov sped past reporters after their race, hunched over, heads down.
The Russian bobsleigh federation and the Russian Olympic delegation were quick to distance themselves from Sergeeva after they announced she had tested positive for a banned drug.
In a rare outburst against an athlete involved in a doping case, the head of the Russian delegation in Pyeongchang, Stanislav Pozdnyakov, attributed the incident to negligence on Sergeeva's part and said she had let the team down.
Russian bobsleigh official Sergei Zhurkin listed theories on how Sergeeva could have ingested a banned substance by mistake, including by taking a legal drug from a tainted pill box.
"She doesn't understand where she made a mistake," he said.