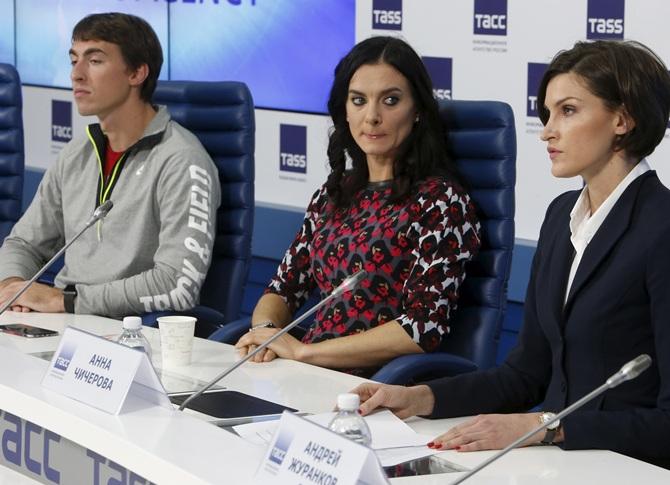 IMAGE:(From left) Russian track and field athlete Sergey Shubenkov, pole vaulter Yelena Isinbayeva and high jumper Anna Chicherova attend a news conference in Moscow (Image used for representational purposes). Photograph: Sergei Karpukhin/Reuters
Russia was the leading doping offender in global sport during 2014, followed by Italy and India, the World Anti-Doping Agency said on Wednesday.
Russia, whose participation in the Rio Olympics' athletics programme is in doubt due to a doping scandal, accounted for 148 of the 1,693 failed
India had the third highest Anti-Doping Rule Violations (ADRVs) in 2014, with 96 cases, behind Russia (148) and Italy (123). Belgium (91), France (91), Turkey (73), Australia (49), China (49), Brazil (46) and South Korea (43) rounded out the top 10 spots on the list that illustrates doping offences committed in global sport.
ADRV is a doping case in which a decision is rendered against an athlete following a full disciplinary process. The sanction is either a reprimand or a period of ineligibility.
Out of the 96 ADRVs recorded by India, four are non analytical (2 each in athletics and wrestling) cases like failure to submit to appear for a test, possession, use or trafficking of a prohibited substance following an investigation.
Out of these 96 dope violations, 79 (56 men and 23 women) failed in-competition tests while 13 (9 men and 4 women) were caught out-of-competition.
India's medal count in the Olympic Games has been a mere 24, since 1920, and the country has had one of the highest number dope offenders in the last few years.
Among the sports which contributed most dope cheats in the country, athletics continued to maintain the top spot with 29 cases, followed by power-lifting (23) and weightlifting (22) as the trend of the last few years continued.
Other sports whose athletes were caught for dope violations were basketball (3), judo (3), taekwondo (3), wrestling (3), wushu (3), boxing (2), canoe/kayak (1), shooting (1) and soft-tennis (1). There was a case of one dope violation each in para-athletics and para-judo as well.
In worldwide dope violations in athletics, India -- with 29 such cases -- stood second behind Russia (39).
Italy (15), France (14), China (13) and Kenya (12) are the other countries in top list of dope violations in athletics.
The total number of failed tests globally fell 13 percent from the 1,953 recorded in the previous year.
Athletics and bodybuilding had the most violations with 248 and 225, respectively, followed by cycling, weightlifting, power-lifting, football, wrestling, boxing, rugby union and aquatics.
The WADA report marks the final year of statistics under the 2009 World Anti-Doping Code. The 2015 report, which will be issued in 2017, will reflect results of current anti-doping efforts under the 2015 Code.
Russia, second behind the United States in the athletics medal table at the 2012 Olympics, is banned from all athletics after an independent WADA commission revealed widespread state-sponsored doping.
The country now has to convince the IAAF that it has made enough progress in reforming its anti-doping operation to be re-instated to the sport in time for the Aug. 5-21 Rio Olympics.