Russia won the right to put on the 2018 World Cup and Qatar will stage the 2022 finals, both first-time hosts, FIFA president Sepp Blatter said on Thursday.
FIFA's executive committee voted for the two winning bids after a fierce lobbying campaign which saw world political leaders and top sports personalities gather in Zurich to press their case for one of the most prestigious and lucrative prizes in global sport.
Qatar took the honours for 2022 over rivals Australia, Japan, South Korea and the United States.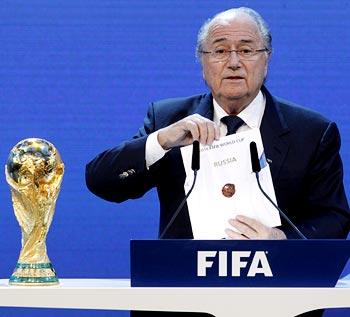 Blatter said: "We go to new lands. Never has the World Cup been in Russia and Eastern Europe, and the Middle East and Arabic world have been waiting for a long time so I'm a happy president when we talk about the development of football."
Russia deputy prime minister Igor Shuvalov, whose delegation whooped with delight on the announcement, said: "You have entrusted us with the FIFA World Cup for 2018 and I just can promise, we all can promise, you will never regret it. Let us make history together."
Qatar bid chief Sheikh Mohammed bin Hamad Al-Thani told the FIFA executive: "Thank you for backing us and expanding the game. You will be proud of us and you will be proud of the Middle East"
The voting process took place against a highly charged background after British media outlets made allegations of corruption against a number of FIFA's executive committee members.
The executive committee, reduced to 22 after two were suspended over the allegations, voted in secret. No details of the counts were made available by FIFA but bid member Gary Lineker said that England had gone out in the first round of voting for 2018.
It was the first time FIFA had carried out a vote for two World Cup finals at the same time.
Russia invited FIFA to bury old stereotypes and help build a new country as it closed out the presentations of candidates to host the 2018 World Cup.
Russia's final pitch included a video featuring a small boy called Sasha who dreamed he scored the winning goal in the World Cup final against Italy. Another video featured footballs raining down on the country.
With Vladimir Putin choosing not to take part, First Deputy Prime Minister Igor Shuvalov concluded a presentation held just before FIFA's 22 executive committee members were to decide on the hosts for the 2018 and 2022 World Cups. Russia is up against England and joint-bids from Netherlands/Belgium and Spain/Portugal.
"Russia has had many tragic days and history in the last century," he said. "But for 20 years we have been building a new country. We can achieve that better and quicker with your help."
Alexei Sorokin, the bid's CEO, quoted Winston Churchill's famous description of Russia as "a riddle wrapped in a mystery inside an enigma".
He said: "We can understand this perception that foreigners have but it's a Russia...that no longer exits."
There were also speeches from Olympic pole vault champion Yelena Isinbayeva and Andrei Arshavin, captain of the Russian national side, the latter recalling how he had a troubled childhood before football put him straight.
Interestingly, Russian pole vaulter Yelena Isinbayeva was a rare female presence in the male-dominated corridors of soccer's world governing body, praising the FIFA executive for promoting the women's game.
Isinbayeva, the first woman to vault five metres who has 27 world records to her name, was one of only a handful of women to speak in Zurich at final presentations to back bids to host the 2018 and 2022 World Cups ahead of the vote later on Thursday.
"FIFA has done a lot for female athletes," said the twice Olympic champion. "Football for women is the fastest growing sport in the world and it happens thanks to you."
The film Russia showed to the 22 male members of the FIFA executive was also unusual in featuring a girl with the ball, rather than the boys mostly featured in other bids.