'I cried a little bit. And I think I might cry again. But these were good tears.'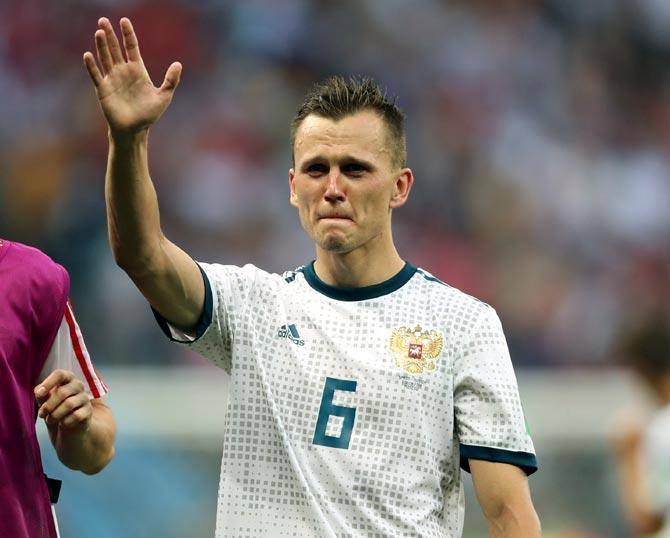 Russia forward Denis Cheryshev said he got quite emotional after his team upset the odds to eliminate highly fancied Spain at the World Cup and move unexpectedly to the last eight, sending football fever to sky high levels in the host country.
"I cried a little bit. And I think I might cry again. But these were good tears," he said in a video released by the Russian team on Monday, less than a day after their penalty shootout victory over Spain in the round of 16.

Cheryshev, 27, has endured a litany of injuries in his career, limiting his time in the national side but three goals at this World Cup have turned him into one of the team's leading players.

"We worked a long time for this, I was striving for this a long time. We are really pleased. We really want to keep it like that," he said.
"The whole country deserves it. I hope everyone is proud of us, is proud of our team. Now we have to go forward."

Russia next play Croatia in the quarter-finals in Sochi on Saturday and penalty shootout hero Igor Akinfeev says the squad must stick to a proven formula for success.

"We agreed with the coach when we arrived at the training camp that we would take it one match at the time. We don't look ahead and we don't look back," said the goalkeeper who made a dramatic save with his foot to ensure Russia's progress on Sunday, setting off fanatical celebrations across the country.

"You can't look back and you can't look forward. You have to live day by day. We said because of the World Cup that we need to unite. I think that we did this but we can't stop at this (victory)."

"We endured. We wanted it," he added as he reflected on the shock triumph.

"I'm not saying that the Spaniards didn't want it, they were practically controlling the match the whole time. The most important thing is that people are happy."